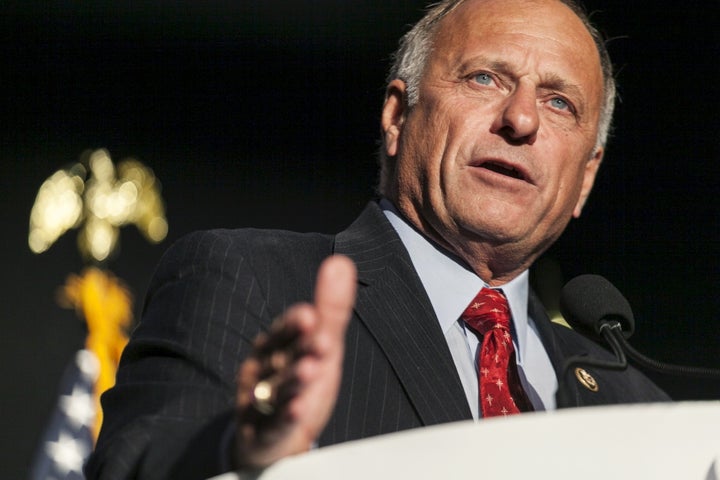 WASHINGTON ― Congressman Steve King (R-Iowa) has a reputation for making outrageous comments. But he may have outdone himself Wednesday when, in the span of six minutes, he defended a top aide to President-elect Donald Trump whose oversaw a website that promoted white nationalism, justified calling people "dykes" and said banning Muslims from entering America would be "an interesting proposal."
King said he's puzzled by people's concerns with Bannon, whom he has known for years.
"He is a brilliant strategist. A dedicated patriot. A historian," he said. "I don't know why [McConnell] wouldn't support Steve Bannon."
When host Stephanie Ruhle asked King if that meant he was OK, then, with Bannon referring to people as "liberal dykes" on tape (he actually called liberal woman "a bunch of dykes"), the Iowa congressman said it depends.
"Well, I hadn't heard that tape, and I don't know what the context of it would be in," he said. "So no, I wouldn't say I was either OK with it or not OK with it."
King, who has been photographed with a Confederate flag on his desk, has been criticized in the past for his statements about immigrants, Muslims and the greatness of white people. He's also interested in being Trump's secretary of Homeland Security, if it were offered. Ruhle asked what he thought about one of Trump's ideas on the campaign trail: banning Muslims from entering the country.
"I think that's an interesting proposal," King said.
He said he hadn't really talked about it until now but thinks it's an idea worth examining. "When we bring people into this country, we ought to have a database on who they are. We ought to be able to track them."
The interview ended with King defining American values as "assimilation" and "cultural continuity," and then going on a bizarre tangent about how Turkey's centuries-long occupation of Greece watered down the purity of natives.
"I was in Greece not that long ago, and I asked why, when they were digging up the statues that had their hair painted blond, why I don't see very many blond Greeks," King said. "The guide looked at me and said, 'That's what 400 years of Turkish occupation will do to you.'"
Watch the full interview below.
Popular in the Community