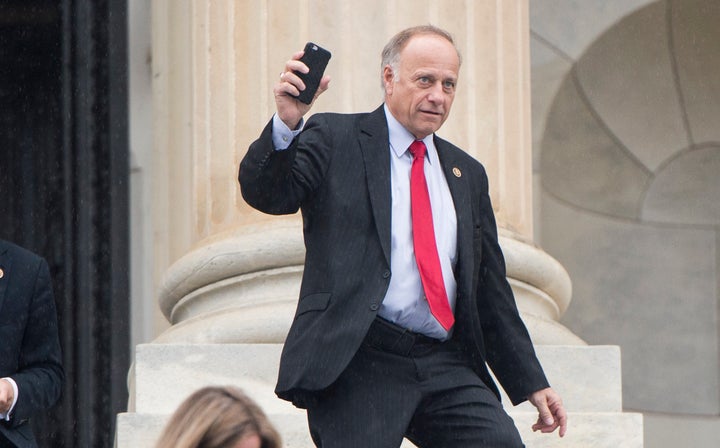 WASHINGTON ― Congressman Steve King is normally one of the more talkative members of the House of Representatives, but the Iowa Republican went quiet on Wednesday when HuffPost asked about his tweets.
On Tuesday, King had retweeted Mark Collett, a prominent British white supremacist, with a comment about the need for America to wake up to the perils of immigration. It was at least the second time King had retweeted Collett, who makes YouTube videos ranting about Jews and downplaying the historical significance of slavery and the Holocaust.
King's office ignored requests for comment, so HuffPost asked King in person if he knew he'd been retweeting a guy with clear Nazi sympathies.
"I'm going to follow her advice right here," King said, referring to an aide who said the congressman wouldn't stop to talk after a HuffPost reporter identified himself.
Members of Congress talk to reporters in Capitol Hill hallways every day, and King is usually one of the chattier ones, holding forth on the finer points of farm policy or the evil of "amnesty" for undocumented immigrants. He's influential within the GOP due to his seniority and Iowa's outsized role in presidential politics. 
When HuffPost followed up with him a couple of hours later, asking if he'd thought about the question, King stepped onto an escalator and silently ascended. This reporter tried one more time an hour later, asking if King would consider talking about his tweet, and the congressman said, "No."
King has made outrageous and racist statements for much of his career. "We can't restore our civilization with somebody else's babies," he tweeted in March 2017 ― prompting the publisher of The Daily Stormer, America's top Nazi website, to declare that King "is basically an open white nationalist at this point."
Calling all HuffPost superfans!
Sign up for membership to become a founding member and help shape HuffPost's next chapter