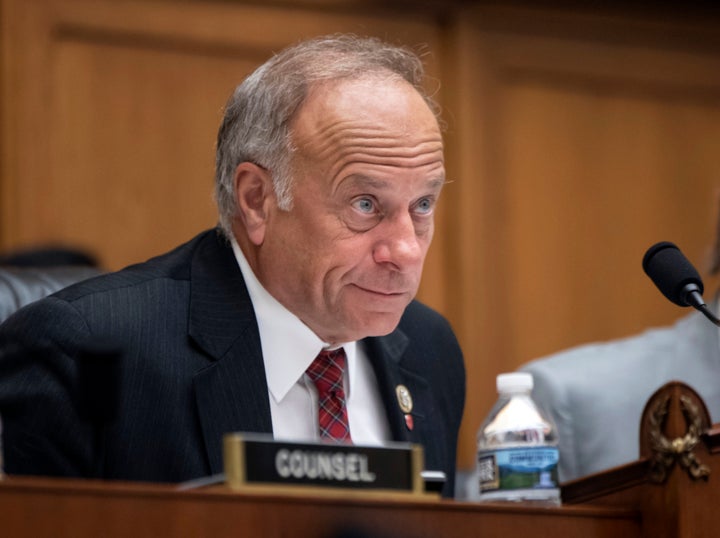 A top House Republican on Tuesday condemned Rep. Steve King (R-Iowa) for his racist rhetoric and behavior online, saying in a tweet that "we must stand up to white supremacy and hate in all forms."
The tweet from Rep. Steve Stivers (R-Ohio) is notable because his job as chairman of the National Republican Congressional Committee is to elect Republicans to the House. The Ohio congressman is now the highest-ranking GOP official to condemn King, an eight-term congressman who has been expressing racist beliefs in increasingly undisguised terms.
The reprimand from the NRCC head comes at an awkward time given that King faces a plausible challenge in his rural Iowa district this year. A new poll released this week showed the anti-immigration firebrand and President Donald Trump ally with a 1-point lead over Democratic challenger J.D. Scholten just a week before the midterm election.
Scholten responded by applauding Stivers.
King responded Tuesday by suggesting Stivers is an "establishment Never Trump" Republican.
"These attacks are orchestrated by nasty, desperate and dishonest fake news," King said in a statement. "Their ultimate goal is to flip the House and impeach Donald Trump. Establishment Never Trumpers are complicit."
Top Republicans, including Stivers, turned a blind eye toward King and his increasingly racist rhetoric for months. In August, for example, King gave a shocking interview with an Austrian far-right propaganda site in which he discussed his belief in the superiority of European culture over others and pushed various white nationalist talking points. He also endorsed Faith Goldy, Toronto's white supremacist candidate for mayor, earlier this month.
King is also facing a growing backlash from the business community over his rhetoric. Dairy giant Land O'Lakes and technology corporation Intel became the latest companies to drop their support for the congressman this week.
This article has been updated with a response from King.
Popular in the Community