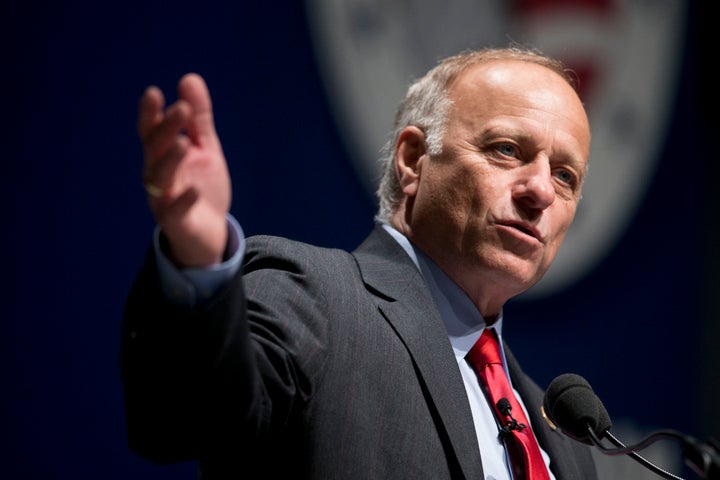 Reserving an empty seat in lieu of inviting an actual guest seems all the rage for this year's State of the Union address, which President Barack Obama will deliver before Congress Tuesday evening.
Rep. Steve King (R-Iowa) announced Tuesday he was dedicating a seat in the House gallery to "the lives of more than 55 million aborted babies," in protest against what he called the "most pro-abortion president ever."
"President Obama's first official act, immediately upon his inauguration was to sign an executive order to accelerate abortions world-wide," King said in a statement, referring to Obama reversing a policy that banned the U.S. from funding international family-planning providers that provided abortions or abortion counseling. "The first tears we have seen him shed in seven years were for the victims of the tragic Sandy Hook School shooting. As far as we know, Obama has never shed a single tear for even one of the more than 9 million babies aborted under his watch."
Obama will keep an empty seat in the gallery next to the first lady in honor of the victims of gun violence, an issue he has sought to address on his own by taking several executive actions earlier this month.
King, a prominent social conservative who had endorsed the presidential bid of Sen. Ted Cruz (R-Texas), is also giving up his own seat on the floor of the chamber. Rather than watch Obama deliver his final address to Congress, King said he will "be in the Member's chapel praying for God to raise up a leader whom he will use to restore the Soul of America."
PHOTO GALLERY
Obama's State Of The Union Through The Years
REAL LIFE. REAL NEWS. REAL VOICES.
Help us tell more of the stories that matter from voices that too often remain unheard.