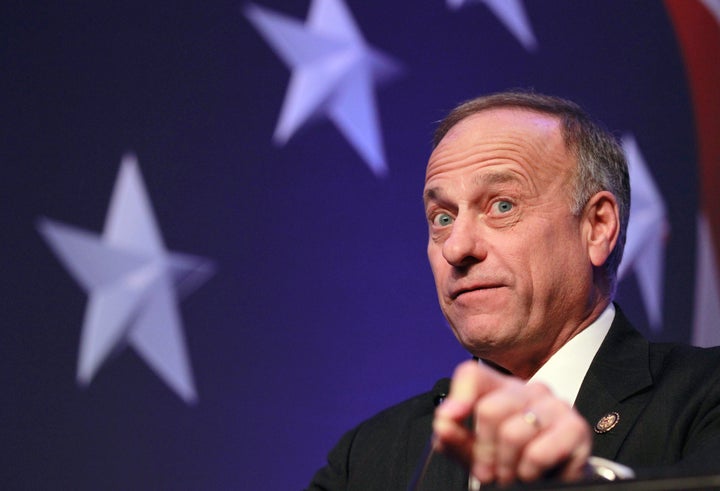 WASHINGTON -- Rep. Steve King (R-Iowa) thanked Department of Homeland Security Secretary Janet Napolitano Thursday for making her first appearance before the House Judiciary Committee since she announced a new deportation policy on young undocumented immigrants last month.
She told him she won't be rescinding that policy. He told her he'd see her in court.
"I accepted the prosecutorial discretion when it dealt with individuals. I do not when it deals with groups of people that are created by a memorandum, and I do not when it deals with a work permit that's ordered to be issued that doesn't exist in the United States code and that is the province of Congress," he said. "So I thank you for being here today, but we will see each other down the line in litigation."
The hearing was Napolitano's 40th visit to House and Senate committees, which have called on her to talk about immigration policy and homeland security consistently during her tenure. On immigration, she has been hammered by the left and the right: Democrats say the Obama administration deports too many non-criminal, undocumented immigrants while Republicans say it is shirking its enforcement responsibilities.
King is one of her fiercest critics on the right, and announced June 15 he would sue the Obama administration for its decision to give deferred action and, in some cases work authorization, to undocumented young people if they came to the United States as children, had a clean criminal record, and either attended college or joined the military. The congressman told The Daily Caller Monday that he plans to file his lawsuit within weeks.
The hearing had some other tense moments, including when Rep. Randy Forbes (R-Va.) repeatedly asked Napolitano whether she went over the president's head by enacting the new policy. Forbes quoted the president's former statement that he couldn't wave a magic wand and stop deportations.
"Is it your opinion that your authority that you issued this under has greater authority than the president of the United States?" he asked.
Later he asked, "Do you feel that you have greater authority than the president of the United States in this matter?"
Napolitano stood her ground, responding, as she and Obama have before, that it was a DHS directive that the president also believed was right.
"This decision came from the Department of Homeland Security," she said. "The president, obviously, approved the decision."
REAL LIFE. REAL NEWS. REAL VOICES.
Help us tell more of the stories that matter from voices that too often remain unheard.
BEFORE YOU GO
PHOTO GALLERY
Crazy Examples of Congressional Theatrics