Rep. Steve King (R-Iowa) is discovering that his insults don't translate well in anybody's language.
Constituents from King's district came to Washington for a scheduled 2 p.m. Tuesday meeting with his legislative director. Twenty-five minutes later, the staffer hadn't arrived, so Vanessa Marcano-Kelly, a board member of Iowa Citizens for Community Improvement, left the meeting site, but not before sending out this tweet in frustration.
King did get in touch with Marcano-Kelly, who works as an interpreter and translator, but she was taken aback by his response ― even for a guy for whom racist and xenophobic comments seem as natural as breathing.
King was apparently referring to Marcano-Kelly's Twitter feed, which has many tweets in Spanish from the time the 32-year-old interpreter and translator live-tweeted a conference.
"It was shocking to see that," Marcano-Kelly, an immigrant from Venezuela, told the New York Daily News. "I had that gut feeling in the pit of my stomach. I felt targeted, attacked and offended that you have this person who's supposed to be representing Iowa, who has power, belittling you like that."
Yet, she wasn't really surprised.
Marcano-Kelly and the members of her group high-tailed it back to King's office to confront the congressman's staff, an encounter posted on Facebook Live.
The video shows one of King's staffers taking blame for the missed meeting and staffers explaining that the controversial congressman writes his own tweets.
A short time later, King sent another tweet to Marcano-Kelly.
However, he didn't remove the insulting earlier tweet from his page.
King has not made a secret of his distaste for immigrants.
Before You Go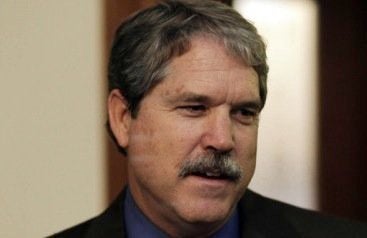 Racist Remarks Made By Politicians
Popular in the Community