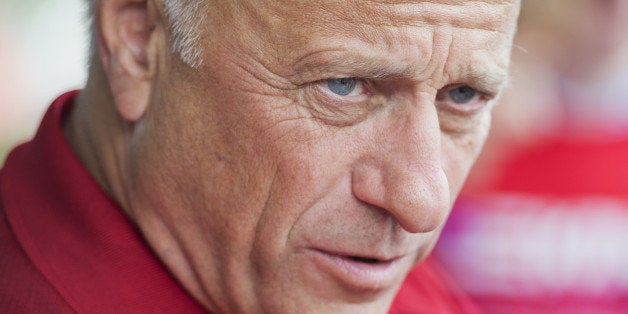 At the Citizens United Iowa Freedom Summit co-hosted by Rep. Steve King (R-IA 4), the congressman drew a comparison between President Obama's upbringing in Indonesia and his own. King referred to a statement made by Obama that the call to Islamic prayer was "the most beautiful sound in the world" (King's mis-quote), and seemed to imply that the president is a closeted Muslim. The congressman said that both men were dramatically impacted by those formative years, and that for himself, "that's that time in my life when the world was right." Shark Tank reporter Javier Manjarres had asked King why he thought it was so hard for Obama to use the words "Islamic jihadists."
Rep. King is known for opining on President Obama's upbringing, and sowing seeds of doubt with regard to his religion, with remarks like "[Obama] doesn't have an American experience." In this 2011 interview with Lawrence O'Donnell, King said that he took Obama at his word in terms of his faith, but that the president needed to work harder to dispel the notion that he is a Muslim.
At the Freedom Summit, Manjarres told me of the encounter, emphasizing that he understood King's implication to be that Obama is a Muslim. After watching the clip, I was struck by a more subtle aspect of King's statements. Given that King was born in 1949, he would be referring to the 1950s and 60s -- decades that were great for white men, but not so much for Black Americans, women and gay people. They are also decades in which U.S. tax rates were near their highest, with a top rate of 92 percent (they briefly hit 94 percent during World War II in the '40s). Does King yearn for a return to those glory days? And if so, is it for the rampant discrimination or the high tax rates?
Popular in the Community