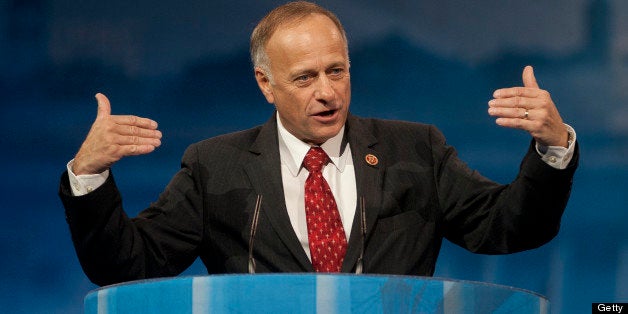 The amendment to the Department of Homeland Security (DHS) appropriations bill also restricts DHS from implementing prosecutorial discretion policies that allow immigration officials to delay the deportations of undocumented immigrants who haven't committed serious crimes and are considered "low-priority." It was approved 224 to 201, with House members largely voting along party lines. Six Republicans voted against it, and three Democrats voted for it.
Immigration hard-liner Rep. Steve King (R-Iowa), who offered the amendment, celebrated Thursday, saying his amendment would prohibit the Obama administration from implementing "executive amnesty." He also warned that the passage of the amendment is "the first test of the 113th Congress in the House of Representatives on immigration."
"My amendment blocks many of the provisions that are mirrored in the Senate's 'Gang of Eight' bill," King said in a statement. "If this position holds, no amnesty will reach the president's desk."
Latinos, immigrant rights leaders reject King's amendment
When King's amendment passed, the House gallery erupted into a chorus of boos. And it didn't take long after it passed for Latinos and immigrant rights leaders to begin condemning House Republicans for voting to approve the amendment.
A member of United We Dream, the nation's largest immigrant youth-led advocacy group, referred to the amendment as "an outrage and the exact opposite of what our country needs from its political leaders." The group also challenged House Speaker John Boehner (R-Ohio), who voted for King's amendment, to lead his party. United We Dream's Managing Director Cristina Jimenez said:
Does Speaker Boehner want to follow Rep. Steve King's lead and seal his party's fate as an out-of-touch, extremist party that has forever marginalized the immigrant and Latino community? Or will the House take a new direction and pass immigration reform that not only stops the deportations of Dreamers and our families but also creates a clear path to citizenship? It's up to them. Dreamers will not let politicians get away with this.
Members of the Dream Action Coalition were also outraged over the passage of King's amendment. The Dream Action Coalition is an immigrant youth-led group that has been speaking out against members of Congress who oppose a path to citizenship for the 11 million undocumented immigrants residing in the U.S. The group said that by voting to approve King's amendment, the GOP continues "moving to the extreme right and allowing obstruction to be their official policy."
"We hope the speaker can stand up to the fringe voices and restore the integrity of the House to ensure it can address problems our country faces," stated Cesar Vargas, executive political director of Dream Action Coalition.
Meanwhile, Rep. Lucille Roybal-Allard (D-Calif.) called King's amendment a "heartless measure" that "represents a brazen attack on the Dreamers and their families."
"I am saddened and frustrated by the Republican Majority's decision to once again use a homeland security spending bill as a platform for anti-immigrant posturing," she said in statement. "Apparently, they are still more interested in political point-scoring than in working constructively to fix our broken immigration system."
Immigration reform: The GOP's chance to make gains with Latinos
The House approved King's amendment on the same day Latino Decisions released a poll that reveals the GOP has a lot to gain or — depending on how the Republicans deal with the immigration reform debate — a lot to lose among Latino voters.
The Latino Decisions poll, sponsored by America's Voice, shows that 45 percent of the 500 Latino registered voters surveyed said they would be more likely to vote for a Republican candidate in the future if the GOP takes "a leadership role" in passing an immigration reform bill that includes a path to citizenship.
But if an immigration reform bill with a path to citizenship doesn't pass this year, the Republican Party has the most to lose among Latinos. The poll found that 39 percent of Latino voters said they would blame Republicans in whole for the bill's failure. Meanwhile, nine percent said they would blame Democrats and 48 percent said both parties would be equally to blame.
"What this demonstrates is that this association of being leaders on the immigration bill with the citizenship issue really does have the ability to swing and get the attention of Latino voters," Latino Decisions pollster Matt Barreto said in a conference call with reporters Thursday.
Frank Sharry, executive director of America's Voice, also joined the call with reporters. He said the immigration reform debate offers Republicans an opportunity to "rehabilitate their badly damaged brand."
But after nearly all House Republicans voted to approve King's amendment, Sharry released a statement saying Republicans are digging an even deeper hole for themselves with Latino voters.
"While the House's action today is a message bill that will never become law, it's exactly the wrong message to send," Sharry stated. "Instead of sending a message of 'Welcome,' it puts the Republican party on record, once again, as being anti-immigrant and anti-Latino."
Calling all HuffPost superfans!
Sign up for membership to become a founding member and help shape HuffPost's next chapter
BEFORE YOU GO
PHOTO GALLERY
11 Ways Immigration Reform Helps The Economy