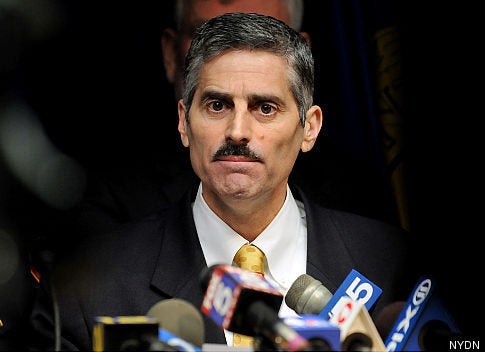 Empire State residents have witnessed some spectacular political flame-outs over the past few years, as if you needed me to tell you that.
Two New York governors shamed out of office, Congressman Charlie Rangel censured in front of his peers, a crop of state lawmakers entangled in everything from domestic abuse to six-figure fraud -- all victims of their own misdeeds in one form or another.
Add one more name to the list of disgraced New York politicians: Suffolk County Executive and one-time gubernatorial hopeful Steve Levy.
In a swift turn of events that was at once stunning and not very surprising at all, Levy announced on March 24 that he won't be seeking a third term as Suffolk's highest elected official. The declaration is part of a compromise that will end a 16-month criminal investigation by the Suffolk County District Attorney's office into Levy's campaign fundraising.
In addition, Levy will surrender his campaign war chest -- $4 million -- to the county as an acknowledgment of wrongdoing.
But while it was crooked fundraising that torpedoed Levy's political career, the county executive continues to face scrutiny as part of a separate inquiry into what many would consider a more serious issue: his handling of hate crimes.
Levy has long been known in Suffolk for rants targeting immigrants, such as a 2006 speech in which he employed the pejorative term "anchor baby" to refer to the US-citizen children of undocumented immigrants and wrongly claimed that births by undocumented mothers were bankrupting Southampton Hospital.
But the 2008 hate-crime killing of an Ecuadorian immigrant in Patchogue shined a national spotlight on violence against immigrants in Suffolk, and Levy, for the most part, halted his public war against illegal immigration.
Even without Levy's anti-immigrant rhetoric, the county continued to attract attention related to the issue, and in 2009, the Civil Rights Division of the U.S. Department of Justice launched an investigation into the Suffolk County Police Department for discriminatory policing against Latinos, including the department's handling of hate crimes.
The investigation hadn't overtly implicated Levy, until, that is, Levy implicated himself through a war-of-words with his former hate crimes commander in January. The exchange played out in the media, and portrayed a hate crimes unit troubled by discord.
On March 14, my organization, Long Island Wins, as well as a coalition of local and national immigration leaders, met with attorneys from the Justice Department regarding the matter. In the meeting, the department agreed to expand their investigation to include how infighting might have hampered the work of the police hate crimes unit.
Now that Levy has flatlined politically, it might be tempting to forget these accusations. The Justice Department investigation is civil in nature, not criminal, so Levy won't face any charges if the allegations of hate-crime tampering are found to be true.
But letting the accusations pass without scrutiny would defeat the primary purpose of the investigation -- to correct any systematic civil rights violations perpetrated by Suffolk police officers against Latinos.
If, over the course of the last seven years, the county's highest elected official authorized policies and procedures that crippled the work of the hate crimes unit, then a system needs to be put into place to prevent such abuses in the future.
The Long Island Immigrant Alliance, an umbrella immigrant rights organization, has already composed a list of recommendations for the county and the police department to combat hate crime, five of which were highlighted during our meeting with the Justice Department.
But before Suffolk's hate crime policing can be fully repaired, we need to know what's broken. And that means a full investigation into the allegations against Levy, even if he's on his way out the door.
Ted Hesson is the online editor of Long Island Wins, a public information campaign centered on immigration.