 EAST RUTHERFORD, N.J. -- Republican Steve Lonegan sees a path to victory over Newark Mayor Cory Booker in New Jersey's upcoming U.S. Senate election if he keeps attacking what he describes as the Democrat's shortcomings.
Sitting in a diner here Monday, Lonegan was quick to criticize Booker for his national following and celebrity-laden fundraisers, accusing him of ignoring New Jersey. Lonegan also slammed Booker's record in Newark, including a recent rise in the city's murders.
"I need to expose the fact that Cory Booker is not right for New Jersey," Lonegan told The Huffington Post. "His failed record in Newark can't be brought to the federal level. He is more concerned with being a celebrity in Hollywood. Anyone running for this office should not be palling around the country with movie stars and billionaires instead of running for the seat."
Later that day, Booker was scheduled to appear at a campaign fundraiser in Hollywood alongside actors Matt Damon and Ben Affleck.
The hits may be working. Lonegan has tightened the race, with a new Quinnipiac University poll, released Tuesday, showing him trailing Booker by 12 percentage points -- a serious gap but still a drop from previous polls that gave Booker a 30-point lead. Lonegan stressed Monday that his own internal polls have found a closer race, too, and declared that he can win on Oct. 16.
Lonegan, a former three-term mayor of Democratic-leaning Bogota, N.J., is an unlikely standard-bearer for the state's Republican Party. Long one of the most conservative voices in the largely moderate New Jersey GOP, he has battled for years with the party establishment. In the 1990s, he sued then-Gov. Christine Todd Whitman (R) over the state borrowing without voter approval. In the 2005 and 2009 GOP gubernatorial primaries, he unsuccessfully challenged the establishment's candidates.
On Monday, he tied himself again to the more conservative wing of the national party, saying he would support a federal government shutdown.
"You have to have the guts to hold a line in the sand. A government shutdown is not the end of the world," Lonegan said. He also said there could be a benefit to shuttering Washington for a while. "Now we know who is non-essential. Go home and stay home. That is how we downsize the government."
His base lies among tea party and Republican voters across New Jersey, a base he built with those two failed statewide races, his general advocacy on conservative issues and seven years heading up the New Jersey chapter of Americans for Prosperity. This proved to be an asset in the four-month-long primary race. As establishment Republicans declined to run to fill the seat vacated by the June death of Sen. Frank Lautenberg (D), Lonegan stepped up.
"I ground it out the hard way," Lonegan said. "[Other Republicans] could not put together what I put together."
In between bites of a chef's salad, Lonegan outlined his vision for the country. Among his top issues is reining in federal spending and Federal Reserve monetary policy. He said he would vote to repeal Obamacare and called for other health care measures to be enacted, including medical malpractice reform and the creation of free clinics staffed by doctors who would receive tax credits and malpractice coverage to volunteer. He also pledged to serve no more than 13 years in the Senate (the remainder of Lautenberg's term plus two full terms of his own) and promoted a plan to have all federal regulations sunset after seven years to produce more regular review.
He defended his seven years running the Americans for Prosperity chapter, which has been criticized by the Booker campaign for the group's ties to the Koch brothers. He described his role as educating state residents about "free market principles." (He has also noted in the past that the New Jersey chapter did not receive funding from the Kochs.)
"I am not funded by the Koch brothers," Lonegan said. "They are good guys. They create jobs. They are what we want in this country. They do everything that we want in this country and do it well."
The candidate was also quick to distance himself from last month's self-inflicted controversy: He had talked about his love of drinking Scotch and smoking cigars, criticized Booker for getting manicures and pedicures, and claimed it was "weird" that Booker said he did not mind if people thought he was gay. On Monday, Lonegan called the whole brouhaha "an off-message diversion" and said that he doesn't care about Booker's sexual orientation.
Over the next three weeks, Lonegan plans to continue traveling the state, talking to New Jersey's voters. He professed a love of street fairs, including two he attended Sunday -- a car show in Clark and an oyster festival in Red Bank. Next week he's heading to a hunting-themed festival, where he noted he'll be able to connect with many of his base voters.
"I am not running around Hollywood like a celebrity," Lonegan said.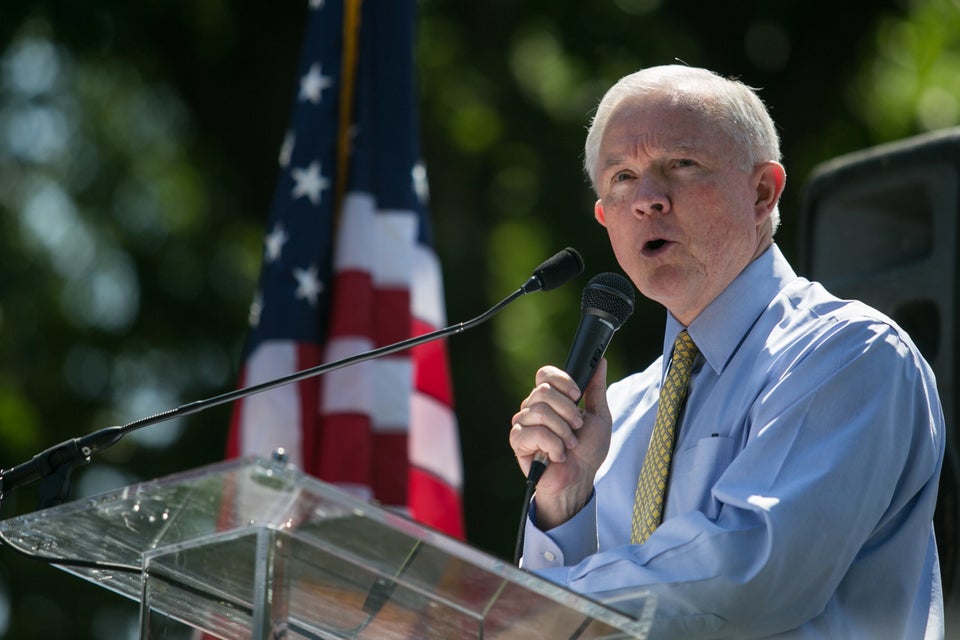 Senate Seats Up For Grabs In 2014
Popular in the Community