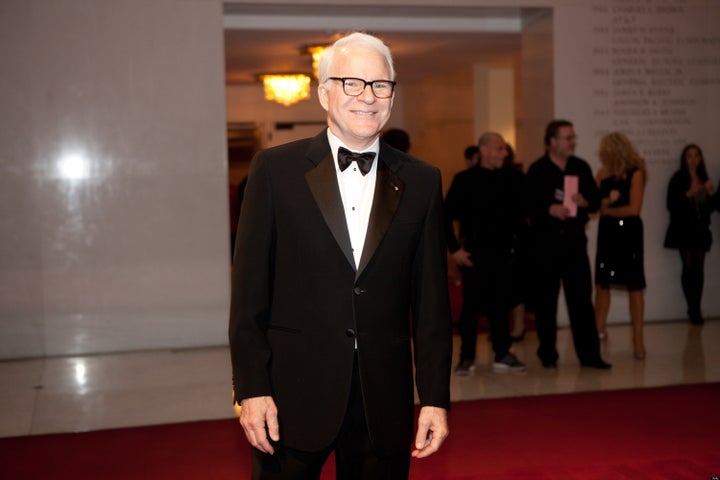 Steve Martin learned Monday night that when a comedian talks about his book, nobody laughs. Or cares.
On Nov. 29 Martin spoke with the New York Times columnist Deborah Solomon at the 92nd Street Y in Manhattan. Mid-way through the discussion a Y employee brought Solomon a note that directed her to steer the conversation away from Martin's latest novel and to focus on his more popular career as an actor. The Y urged Solomon to change course after receiving numerous complaints from viewers via email.
Martin, offended by the turn of events, Tweeted the next day:
"So the 92nd St. Y has determined that the course of its interviews should be dictated in real time by its audience's emails. Artists beware."
Following the event, the Y offered all audience members a refund. The New York Times reported that Executive Director of the Y Sol Adler wrote in an email to its guests:
"We planned for a more comprehensive discussion and we, too, were disappointed with the evening. We will be mailing you a $50 certificate for each ticket you purchased to last night's event. The gift certificate can be used toward future 92Y events, pending availability."

Martin's latest novel, "An Object of Beauty," follows a young art dealer at the outset of her career in the dizzying New York art world. The book, published by Grand Central earlier this month, was met with generally positive reviews, such as those in The Independent and The Times.
The book also welcomed a dose of disapproval.The Guardian wrote, for instance:
Martin's prose is oddly flat and lacking in depth. It feels as though he has set out to write a satire, with an arch, knowing tone that is deliberately removed from the action - like a waspish bachelor uncle at a family gathering, commenting on proceedings from the edge of the room. But, somewhat problematically for a satirical take on the excesses of consumption, 'An Object of Beauty' isn't especially funny."
Most notable from that critique is the assumption that Martin, who is best known for his comedic film roles, must be funny to succeed. Last week at the Y, the audience seemed to agree.
The Times reported, "the audience cheered when Ms. Solomon read aloud the note [that asked her to re-direct the conversation]."
A writer for AOL News sided with these disgruntled fans after the fact, writing,
"OK, so maybe the folks attending the Y shouldn't have been expecting Martin to break out his banjo and start cracking jokes. But it's hard to believe the iconic entertainer didn't give them anything to work with!"
Now, in the days following the event, news sites across the web have weighed in. Gawker, Pop Eater, NY Daily News and Salon covered the fiasco, and NPR featured a particularly scathing critique of what it called the Y's "stunning" actions.
"Listening to a human being speak and being put out that you didn't get what you ordered as if you've gone to KFC and gotten Original instead of Extra Crispy is ridiculous, risk-averse, and (coincidentally) deeply chicken-hearted behavior."
It is exactly -- exactly -- like demanding your money back because Elton John didn't play "Rocket Man." Too bad, so sad. Nobody promised you the cookie-cutter experience that every other audience seeing every other similar event has ever seen. When you see an artist perform -- and even more so when you hear an artist interviewed -- there is no guarantee of the content; that's the exact point of going. Why would you go to hear someone speak if you already knew what he was going to say? If you want to read about how Steve Martin feels about acting and comedy, couldn't you find several looseleaf binders full of that stuff? The guy is not a recluse.

"I had no idea that the Y programmers wanted me to talk to Steve instead on what it's like to host the Oscars or appear in 'It's Complicated' with Alec Baldwin. I think the Y, which is supposedly a champion of the arts, has behaved very crassly and is reinforcing the most philistine aspects of a culture that values celebrity and award shows over art."
Tracing the aftershock of the interview, it does appears that many fans' complaints stem from the fact that the onstage chat took on a distinctly bookish character. The A.V. Club wrote:
Part of the problem was that Solomon narrowly focused on "An Object Of Beauty" for the majority of the discussion, despite it only being released a few days prior, making it near-impossible for those who hadn't read it yet to follow along.
Still, other bloggers have offered an alternate interpretation of the events, placing full blame on Solomon, rather than on Martin or the Y.
They had a comedy idol in front of them, and they were disappointed. I don't blame Steve Martin for this. I don't blame the 92Y for this. I blame Deborah Solomon for this. She had the ability to ask this comedy legend questions about his life and his pursuits, including the new novel about the art world, in a way that made people feel as though they were getting their money's worth. And she didn't do that. Instead, she chose to ask questions that interested her. For once, she learned that her magazine tagline -- "INTERVIEW HAS BEEN CONDENSED AND EDITED" -- should apply equally to her.
The blog Emdashes promoted the same stance:
Solomon's strategy was to treat the event like a book report, covering, almost chapter by chapter, Martin's new novel about the art world, An Object of Beauty.
All told, seems that Martin has gotten the last laugh. The author Tweeted today: "I am offering to erase my signature from signed books at 92nd St. Y."

Popular in the Community