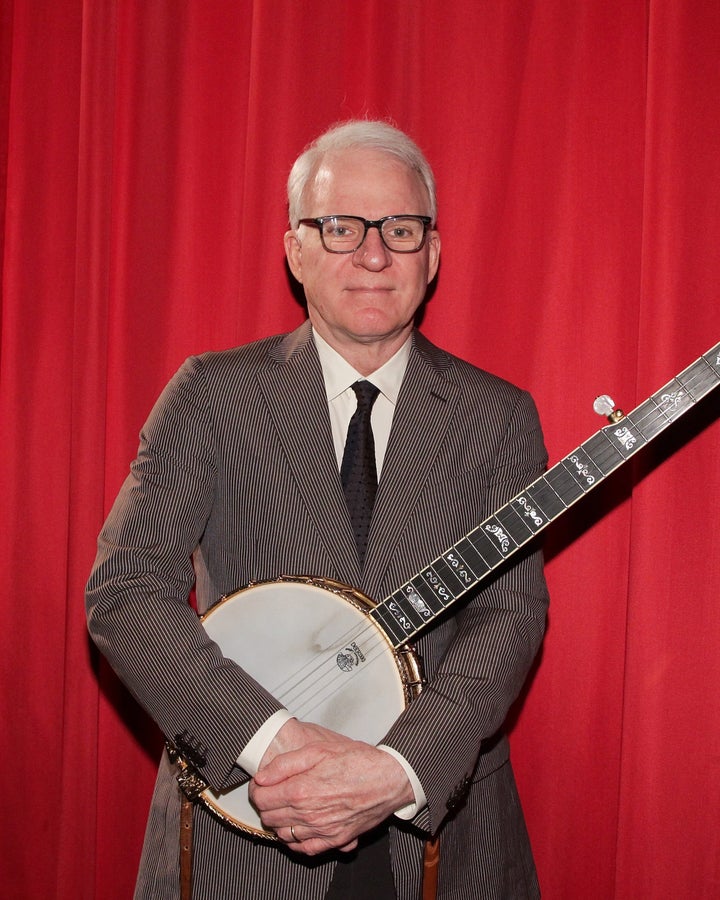 Last night I had a flashback. There I was, smack in the middle of the 1970s, watching a distinguished-looking white-haired guy in a white suit on stage in Greensboro, N.C. And he was singing about King Tut (and I still remembered all the words).
Steve Martin is on the road. And the truth is, he doesn't seem to have changed that much from when I first saw him on the "Wild and Crazy Guy" tour oh so many years ago. But Mr. Martin's current road trip is a bluegrass tour. While Mr. Martin has always played the banjo (which seems to be one of the happiest instruments out there), in recent years he has devoted more time to that part of his creative experience. In fact, he's been making news in the bluegrass world for years, walking away in 2009 with the Grammy for Best Bluegrass Album of the Year. His latest album, "Rare Bird Alert," with the renowned Steep Canyon Ranchers, is the focus of the current tour, and features many songs written by Mr. Martin himself. Watching him perform on stage with a group of men about half his age, picking away as fast as the eye can see, well, it's both plain amazing and something that is somehow not at all surprising.
Not bad for a 66-year-old guy, right? On the cover of his new album, Mr. Martin pokes fun a bit at his range of creative energy, with an illustrated map of his head that reflects all his seemingly disparate interests. Stand-up comedian, actor, writer, playwright, juggler, composer and banjo player (and award-winning in all those fields, except perhaps the juggling). That's a lot to achieve in one lifetime.
But I have an idea for one more thing that Mr. Martin can add to his repertoire. How about becoming a poster child for the brain health generation?
In many ways, Mr. Martin embodies the kind of creative intellectual engagement we all need to take part in to keep our brains vital. Here he is, at an age where he certainly has earned the right to loll about the golf course or put his feet up by the fire and reflect on the good old days. And what is he doing? Touring with a bluegrass band.
Why is what Mr. Martin is doing good for his brain? Research has shown that staying intellectually challenged throughout our lifetime is associated with a reduced risk for a serious memory disorder later in life. Studies both here and in Europe have found that people who report staying engaged in intellectually stimulating activities have a significantly lower risk for dementia later in life. In some studies, the associated reduction in risk reported is as high as 63 percent. While scientists are not sure what underlies this association, many believe that these intellectually engaging activities create new neural pathways and connections, building more "cognitive reserve." They suggest that this expression and challenge to the brain's continued plasticity may offer protection from the clinical onset of diseases such as Alzheimer's disease. While sticking with intellectual passions we've always loved is fine, it seems that expanding on one that we've explored little, or taking up a whole new challenge, offers even more opportunity for building such reserve, since it is the creation or strengthening of new neural pathways that we seek.
Which brings us back to Mr. Martin. After all, there are many entertainers of a certain age who are still out there. Yet while we may love to see that Mick Jagger still struts and James Taylor still croons (and Keith Richards is simply still here), Mr. Martin is unique in the fact that what he is doing is something totally and completely different from what he's known to do. And that is what makes it so wonderful.
So Mr. Martin gets my vote for brain health poster child, at least of this month. Let's learn from his example and set out to channel our own inner wild and crazy guy. Look for that new, completely different thing you can do to challenge your mind to think out of its box. Take up that instrument you've always wanted to try, sign up for those salsa lessons, or just take up knitting. We may not end up on tour or winning awards, but we may just stave off serious memory loss, and we'll definitely enjoy life more for the adventure.