Steve Martin has had a varied career as an actor, writer, comedian, SNL host, musician, and art lover, but he's probably not too happy to add 'victim' to that list.
The perpetrator was allegedly a German art forgery ring that's been in operation since the 1990s. A painting that was in Martin's possession from July 2004 to February 2006 was recently discovered to be a fake, and may have been the German ring's handiwork. Martin bought the painting for €700,000 at the Cazeau-Béraudière Gallery in Paris and sold it at a Christie's auction to a Swiss businesswoman for €500,000.
Read more below.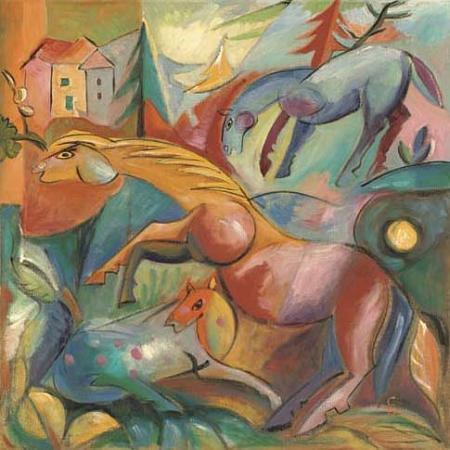 The painting in question was "Lanscape With Horses" (1915), above, by Heinrich Campendonk. Martin sold the painting long before it was determined to be a fake, and has not been accused of any wrongdoing.
Investigators said that the painting was most likely created by Wolfgang Beltracchi, the accused leader of a forgery ring that included his wife, sister-in-law and another accused forger Otto Schulte-Kellinghaus. Beltracchi's forgery ring is suspected of producing paintings attributed to Campendonk, Fernand Léger, Max Ernst and others.
After forging each painting, the clan would fabricate its provenance—its history of ownership. In the case of Martin's painting, the forgers said it had come from the collection of Werner Jägers, a German businessman who happens to be the grandfather of Beltracchi's wife. The provenance allegedly states that Jägers acquired paintings from art dealer Alfred Flechtheim and hid them from the Nazis during World War II. The forgers allegedly sold many of their paintings to French galleries, including to Cazeau-Béraudière, where Martin bought his work.
Martin commented on the duplicity via his twitter with his signature humor, saying "I was also once duped by a German vegetarian salad that was loaded with ham."
Related
Popular in the Community