 Mirror, mirror on the wall; who's the hottest dead celebrity of them all?
"I tell her it's our kid's college fund," said Eisenberg. "Sometimes, I catch her even dusting it."
Right now, Eisenberg has McQueen's 1941 Chevy pickup truck on the auction block. It's drawn more than 12,000 views on eBay, and comes with the ownership title showing McQueen was the man. "Heck, it has his DNA all over it. He drove this!" Eisenberg said of the actor known as the "King of Cool." The highest bid at this writing is more than $57,400, but the reserve has not yet been met. The auction ends at 7 p.m. Wednesday. McQueen's bicycle is also being auctioned. A portion of the proceeds will be donated to the McQueen family
charity Boys Republic.
One of the reasons McQueen's possessions have appreciated in value so much, Eisenberg said, is that "McQueen was a real guy." He did his own stunts, raced his own cars, rode his own motorcycles. Also, he died young and didn't live long enough to collect multiples of a lot of things -- except maybe cars and motorcycles. Scarcity of a product improves the market for it.
The blue-tinted aviator sunglasses McQueen wore in the 1968 "The Thomas Crown Affair" sold at a 2006 auction in Los Angeles for $70,200. "How do you explain a pair of sunglasses worth maybe $300 selling for $70,000?" asks Eisenberg. "It's the McQueen intrinsic value," he answers.
A 1941 Chevy pickup, anyone?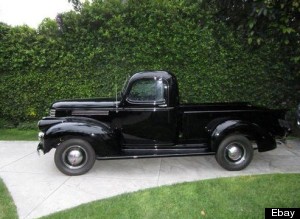 Related
Popular in the Community