In a matter of months, Treasury Secretary Steve Mnuchin managed to cost American taxpayers more than $800,000 for travel aboard military aircraft, yet apparently, he broke no laws, an official government inquiry found.
The decision came on the heels of Health and Human Services Secretary Tom Price's resignation from office. Price stepped down after Politico reported on the Cabinet member's frequent use of chartered and military flights, which reportedly cost taxpayers more than $1 million. Five of those chartered flights occurred during the same week and were used for domestic travel between cities ranging from Washington, D.C., to Waterville, Maine.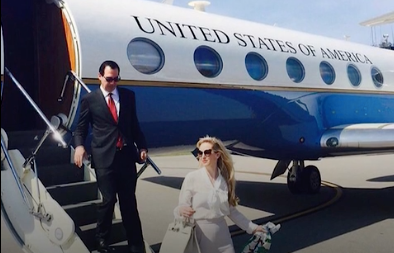 The reported details of Mnuchin's military aircraft travel since March were similarly lavish. Mnuchin flew on a military flight to meet with President Donald Trump at Trump Tower in New York, a round trip that cost $15,000, The New York Times reported.
According to Politico, Cabinet members' travel aboard military aircraft is approved by the White House on a case-by-case basis, and is sometimes necessary for Cabinet members dealing with national security. 
The Times cited an internal email that said Mnuchin needed a military plane in order to have a classified telephone conversation with Secretary of State Rex Tillerson.
In another case, Mnuchin cost taxpayers $43,725.50 to fly to Miami for a meeting with the Mexican finance minister, the Times reported. A commercial round-trip flight would have cost less than $1,000.
Still, the Treasury's Office of the Inspector General found that Mnuchin's use of military aircraft on seven official trips broke no laws, but asked the secretary to provide more justifications for such travel in the future. 
"I recommend that the OIG advise that future requests be ready to justify government air in greater detail, especially regarding cost comparisons and needs for security and other special factors," OIG counsel Rich Delmar wrote in his report, according to Reuters.
Mnuchin's travel habits came under official scrutiny in August after his wife, Louise Linton, posted a photograph to Instagram highlighting the luxury designers she was wearing as the couple descended from a government plane they took to Kentucky for an official trip that just happened to coincide with the path of the total solar eclipse. 
Mnuchin, a multimillionaire and former Goldman Sachs executive, pushed back against criticism from Democrats and watchdog agencies about the trip.
"People in Kentucky took this stuff very seriously," he said in an interview with The Washington Post. "Being a New Yorker, I don't have any interest in watching the eclipse."
Reports also surfaced over the summer that Mnuchin requested use of a government jet for his European honeymoon to Scotland, France and Italy. Such an aircraft would have reportedly cost taxpayers $25,000 per hour to operate. His office eventually withdrew the request.
Calling all HuffPost superfans!
Sign up for membership to become a founding member and help shape HuffPost's next chapter
BEFORE YOU GO
PHOTO GALLERY
Lonely Planet's Top 10 Budget Honeymoons