Treasury Secretary Steve Mnuchin formally requested to use a government plane for his honeymoon to Scotland, France and Italy earlier this summer.
Travel on such an aircraft could have reportedly cost American taxpayers $25,000 per hour to operate.
ABC News was the first media outlet to report Mnuchin's request, which occurred last month. The request was so unusual it sparked an "inquiry" by the Treasury Department's Office of Inspector General.
A spokesperson for the Treasury Department said Mnuchin's request was made to ensure that the secretary would have a secure line with which to communicate as a member of the National Security Council. Once the department found a different way to ensure secure communication, the request was withdrawn.
"It is imperative that he have access to secure communications, and it is our practice to consider a wide range of options to ensure he has these capabilities during his travel, including the possible use of military aircraft," a Treasury spokesman said in a statement to The New York Times.
"I've known him for a long time," the president said after touring hurricane damage in Florida. "He's a very straight shooter."
The Treasury Department's inspector general is already looking into Mnuchin's travel with his wife, actress Louise Linton, on an Air Force jet to Louisville and Fort Knox, Kentucky, last month that coincided with the solar eclipse. At their Fort Knox stop, they were close to where the eclipse occurred in totality.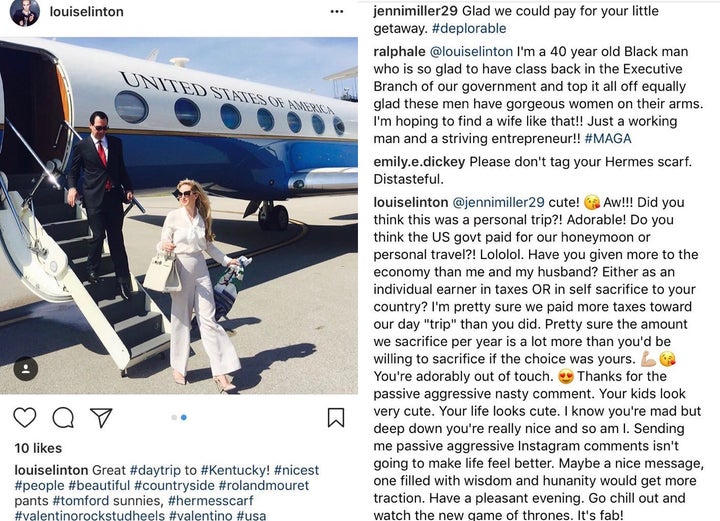 Mnuchin, a multimillionaire and former Goldman Sachs executive, and his wife came under fire last month when Linton posted a photo to Instagram showing them descending from the jet's staircase. She tagged the designer brands she was wearing in the image, and attacked a person who criticized her for using American tax dollars for the trip.
Linton eventually apologized for her response and the post was deleted from her account. Mnuchin also made clear that his wife's portion of the trip was paid for by him, not the government.
After Linton flaunted their lavish lifestyle on social media, ethics watchdog group Citizens for Responsibility and Ethics in Washington also launched an investigation into the couple's Kentucky trip to see if they planned it around viewing the eclipse.
This article has been update with a comment by Trump. Igor Bobic contributed reporting.
Popular in the Community