WASHINGTON ― The Border Adjustment Tax may not be dead, but President Donald Trump himself may be giving up on making the controversial surcharge on imports part of a tax reform bill later this year.
Treasury Secretary Steve Mnuchin indicated during a private meeting with House Freedom Caucus members on Tuesday that Trump doesn't support the Border Adjustment Tax.
"He indicated the president is not supportive of the BAT and that we should discuss other differences that might move things forward," one Freedom Caucus member in attendance told HuffPost, requesting anonymity.
Freedom Caucus Chairman Mark Meadows (R-N.C.) said Mnuchin indicated that Trump is moving from a noncommittal, at times ambivalent, stance on the border adjustment tax to straight-out opposition.
"He said POTUS was concerned it would affect too many people adversely that are often forgotten in tax reform," Meadows said.
A border adjustment tax, which still has the support of some GOP House leaders, would impose significant levies on imported goods from clothing to auto parts, driving up prices for Americans.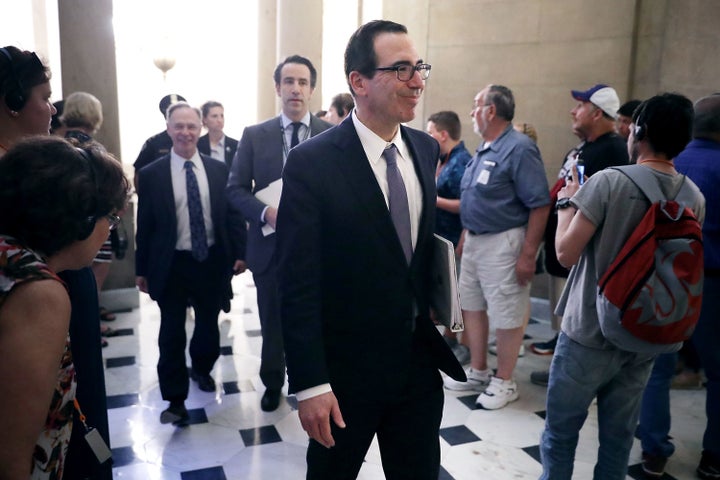 "It is somewhat of a tax on consumers," another Freedom Caucus member, Rep. Rod Blum (R-Iowa), told HuffPost.
Blum agreed with other Freedom Caucus members that Mnuchin seemed doubtful about prospects for a border adjustment tax.
"My feeling is it's not going to make it through," Blum said, adding that he thought Trump and Mnuchin felt the same way.
"I don't know if they've given up, but my sense out of that meeting was that Mnuchin and ― he doesn't speak for the president, of course, but ― doesn't think that," Blum said, trailing off. "There's just too much controversy. Too many people are divided about it."
Mnuchin himself issued his strongest words against the tax on Tuesday during a Peter G. Peterson Fiscal Policy Summit.
"One of the problems with the border adjustment tax is that it doesn't create a level playing field," Mnuchin said. "It has very different impacts on different companies. It has the potential to pass on significant costs to the consumer. It has the potential of moving the currencies. We want to make sure we're creating a level playing field."
Republicans in Congress also poured cold water on the tax during a Ways and Means hearing, with Rep. Erik Paulsen (R-Minn.) publicly switching from a supporter of the tax to an opponent.
Still, it's hard to declare the border tax idea totally dead. Speaker Paul Ryan (R-Wis.) remains an enthusiastic supporter, and Ways and Means Chairman Kevin Brady (R-Texas) hasn't given up on the scheme, though he did signal some openness to new proposals Tuesday.
"If someone has a better solution," Brady said, "bring it."
Popular in the Community