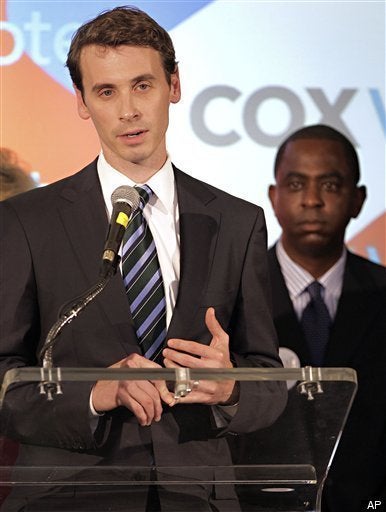 The trials and tribulations of Ben Quayle, son of former Vice President Dan Quayle and Republican candidate for Arizona's 3rd Congressional District, have given rise to one of his primary challengers, businessman Steve Moak.
Moak's opening was provided by a series of antagonistic news reports concerning Ben Quayle's involvement in a bawdy gossip website, his allegedly misleading use of two young girls -- his nieces -- in a campaign mailer that touted his "family man" credentials, and the 33-year-old's less-than-stellar voting record.
Though Quayle has repeatedly denied any connection with the latest version of the adult website and claims that there was never any intention to deceive voters by using his nieces in the mailer, his polling numbers seem to have taken a hit in the 10-way race for the GOP nomination.
Jeremy Duda of the Arizona Capitol Times reports on the current state of the primary, which will take place on August 24th:
Quayle's connections to the website have put Moak in the lead position in District 3, and according to some polling, former state Sen. Jim Waring isn't far behind. Waring is famous for his campaign door-knocking and has met thousands of voters on the campaign trail, but he's only raised about a quarter-million dollars, and that may not be enough to match Moak and Quayle's spending.
But voters shifting away from Quayle and toward Moak for a candidate with less baggage may be surprised to find out that the former owner of drug-testing company First Check Diagnostics has a few skeletons in his own closet.
According to a report in the Phoenix New Times, Moak once created an anti-drug initiative through his non-profit youth program that facilitated the purchase of drug-testing kits from his for-profit business.
Moak says the tests were donated to the charity and that participants in the program were provided as many as they needed. However, according to an article on the Web site RefillPill.com, those kits were only provided "while supplies last." When supplies don't last, parents are on the hook for buying the kits, which cost $27.99.

[...]

The entire time Moak was pimping his for-profit drug tests with his not-for-profit charity, he never disclosed a conflict of interest on his tax forms -- that is, until he sold the company in 2007 for $25 million to Inverness Medical Innovations.

Watch a local report from Arizona's ABC15 on the GOP primary in Arizona's 3rd Congressional District:
Popular in the Community