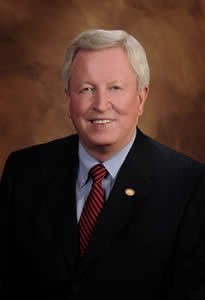 WASHINGTON -- The nation's state legislators concluded their fall forum here Friday by praising bipartisanship through a tribute to their former leader, who was ousted from his own legislative seat in a bitter Republican Party war that pitted moderates against conservatives.
Kansas Senate President Steve Morris (R-Hugoton) was given a minute-long standing ovation by members of the National Conference of State Legislatures for his leadership of the group. Morris, the group's immediate past president, was cited for his ability to work in a bipartisan fashion. Morris, who leaves as NCSL Foundation board chairman when his Senate term expires next month, received a longer ovation than did Academy Award-winning actress Mira Sorvino after her speech to NCSL on Thursday.
"From an NCSL perspective, we've lost a gentleman," New Hampshire House Speaker Terie Norelli (D-Portsmouth), the current NCSL president, told The Huffington Post. "He's shown that a nonpartisan organization like NCSL can work towards positive solutions for our states by working with Democrats and Republicans alike."
Norelli's message was echoed by many, including Utah state Sen. Curt Bramble (R-Provo), who stressed that Morris has been a model for bipartisanship. The tribute to Morris came after NCSL members heard from former U.S. Sens. Trent Lott (R-Miss.) and Byron Dorgan (D-N.D.) about the need for bipartisanship.
Morris' defeat in the August Republican primary at the hands of state Rep. Larry Powell occurred during the annual NCSL legislative summit in Chicago, sending a shockwave through that meeting. Powell's defeat of Morris was the culmination of a bitter internecine dispute between moderate and conservative Kansas Republicans.
Morris and other Senate moderates had been at odds with the conservative wing of the party, controlled by Gov. Sam Brownback (R) and state House Republicans. The primary battle, in which conservatives by and large defeated moderates, was funded by a variety of conservative interests, including the Koch brothers-backed Americans for Prosperity and the Kansas Chamber of Commerce. In August, Morris blamed his defeat on conservative messaging and the desire for the Kochs and others to turn Kansas into an "ultraconservative utopia."
State politics was pushed aside, though, on Friday as lawmakers from both Kansas and other states praised Morris. Kansas state Rep. Jan Pauls (D-Hutchison) told HuffPost that she and other legislators will miss Morris' presence in Topeka.
"He's worked towards good solutions in what I think is a bipartisan manner," Pauls said. "He has always loved the state of Kansas. We'll miss him."
At a national level, Morris has been praised for pushing the Marketplace Fairness Act in Congress, which would allow states to collect sales tax on items purchased online. On Wednesday, legislators, led by Norelli and Morris, lobbied Congress for the bill. In his remarks to the group, Morris, who appeared caught up in the emotion of the moment, thanked his colleagues but kept the focus on the congressional lobbying effort.
"All of you working together, we can make a positive difference in this country," he said.
Calling all HuffPost superfans!
Sign up for membership to become a founding member and help shape HuffPost's next chapter
BEFORE YOU GO
PHOTO GALLERY
U.S. State Capitol Buildings