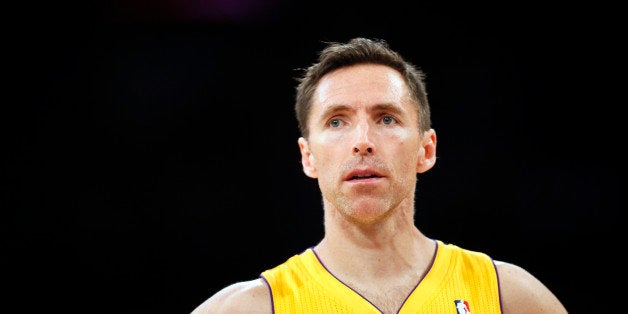 In what may mark the end of a stellar 18-year career, the Los Angeles Lakers announced this week that Steve Nash will miss the 2014-15 season due to a back injury.

"As disappointed as we are for ourselves and our fans, we're even more disappointed for Steve," Lakers General Manager Mitch Kupchak said in a statement Thursday. "We know how hard he's worked the last two years to try to get his body right for the rigors of the NBA, and how badly he wants to play, but unfortunately he simply hasn't been able to get there."
Nash, a two-time NBA MVP who, at 40, is the league's oldest active player, has struggled with injuries since signing a three-year, $28 million deal with the Lakers in 2012. According to ESPN, back, knee and hamstring problems have caused Nash to sit out much of the last two seasons, playing just 65 of 164 regular-season games.
Still, there was some optimism this year that the veteran point guard, who seemed to be playing well in the offseason, might be able to find some success on the courts. But after hurting himself while carrying his bags earlier this month, hope began to wane.
"Being on the court this season has been my top priority and it is disappointing to not be able to do that right now," Nash said in the statement. "I work very hard to stay healthy and unfortunately my recent setback makes performing at full capacity difficult. I will continue to support my team during this period of rest, and will focus on my long-term health."
The eight-time NBA All-Star, who started his career in the league with the Phoenix Suns in 1996, has said previously that the 2014-15 season will be his last.
"I realize this is my last year," Nash said, per Bleacher report, at the start of camp this year. "There's no guarantee I'll get to play any games this year. The truth is, I have a lot of miles on my back, and a day or two into training camp, it could all be done."
BEFORE YOU GO
PHOTO GALLERY
2014 NBA Draft 1st Round Picks