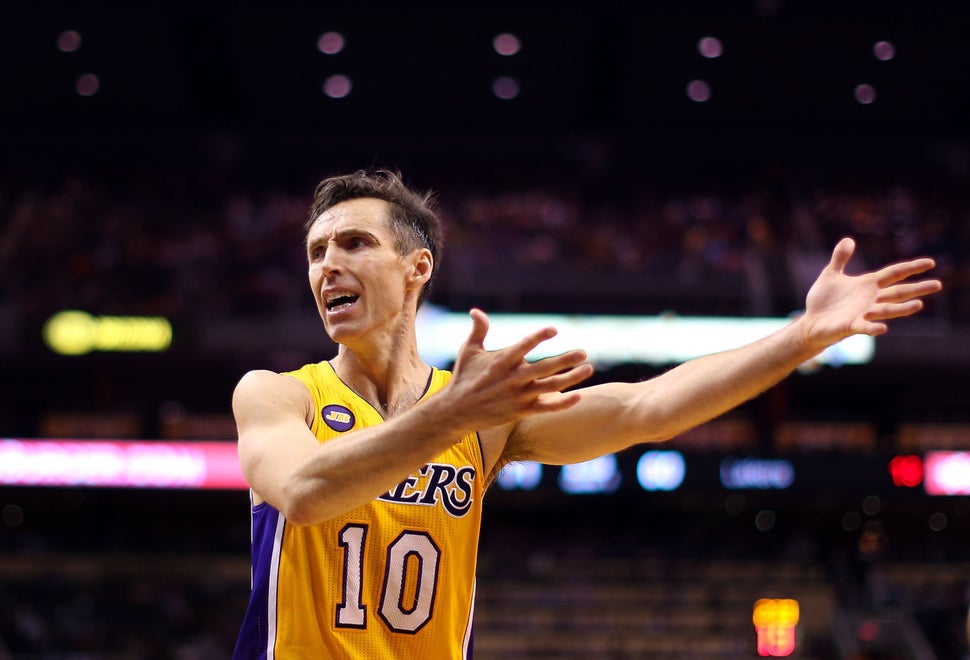 A blur of purple and orange, and seemingly everywhere at once, Steve Nash had the kind of vision and innate understanding of the game that point guards dream of. If a teammate were out in transition or waiting, hands up, in the corner, it took just a quick moment and a flick of his wrist for Nash to seemingly bend space and stop time, lacing the ball through the swarm of defenders and straight to the chest of his target, setting up the shot perfectly, per usual.
If you also donned a Phoenix Suns jersey, the two-time MVP would find you before you yourself even knew you were open. That's simply what Nash did throughout his 18-year NBA career -- he'd scan the open floor before him, then guide his teammates toward the spots in which they'd excel, maximizing their potential with just the jerk of his head or the look in his eye.
So it makes sense that even today, the now retired, 41-year-old Nash is still fixated on this idea of helping teammates grow. As he sees it, a career in the NBA can be likened to the circle of life. As others help you develop in your infancy and adolescence, you, in turn, help the next crop learn when you've grown wise to the ways of the world. And then those you taught aid others, and on and on, the legacy you helped develop goes and grows.
That, he told The Huffington Post, is the premise behind the new digital series he created and produced alongside The Players' Tribune in the past few months. "Rookie/Vet," which premieres Wednesday, takes an extended look at the kind of mentor-mentee relationships that form in NBA locker rooms, specifically following the budding friendship between 15-year NBA alum Tyson Chandler and 19-year-old rookie Devin Booker, as the former helps the latter find his sea legs in the ever-unpredictable, ever-changing tides of the professional sports world.
In other words, the guy who for two decades made it his mission to aid his teammates on the hardwood has traded the NBA's parquet floors for the editing room, the basketball for the camera, as he has now made it his goal to capture the evolution of this kind of intimate mentorship on film.
Speaking with HuffPost on Tuesday, Nash stepped back and took a bird's eye view of the league, discussing anything and everything from his film series to who he thinks would win in a shooting contest, himself or Stephen Curry -- taking the time to dissect the bonds of the NBA and to explain why the recent criticism of LeBron James in the aftermath of the tragic Tamir Rice shooting is so wholly unfair to athletes everywhere.
How did you first come up with the idea behind "Rookie/Vet"? What made you so invested in this type of mentor-mentee relationship?
I think just through my experiences, I thought it was an interesting concept. We've had a few documentary series that are very impactful that take you behind the scenes, so to speak, in professional sports, but I thought the dynamic between a rookie and a vet was very interesting because they are so disparate -- there is such a contrast between not only the stages in their careers but also the stages in their lives, which makes it almost more compelling.
I thought that was really a powerful image: These two people are doing the same job but having a completely different experience doing it.
I just thought it was really poetic -- you have one player who is an economy of movement, everything's kind of simple and rote in a way, and you have another guy who's like a deer in the headlights -- experiencing everything for the first time; everyone's trying to give them advice from the moment they walk in the door to the moment they leave. And they're just struggling to try to take it all in and make a career for themselves, while, at the same time, becoming an adult, getting away from a college structure and becoming a businessman or a corporation all unto themselves in some respects. So I thought that was really a powerful image: These two people are doing the same job but having a completely different experience doing it.
How did you decide on which pair of teammates to center the series around?
First of all, having a relationship with the Phoenix Suns, they were incredibly gracious to allow us to get unprecedented access to their players and their facility. And then, second of all, beyond my relationship with the Suns, Tyson Chandler is a part of The Players' Tribune, so we all think the world of him not only as a person, but as a veteran basketball player. So we thought it'd be an amazing opportunity to have him be one of the characters, and his rookie this year is another great kid, Devin Booker, so we thought it'd be an awesome pairing.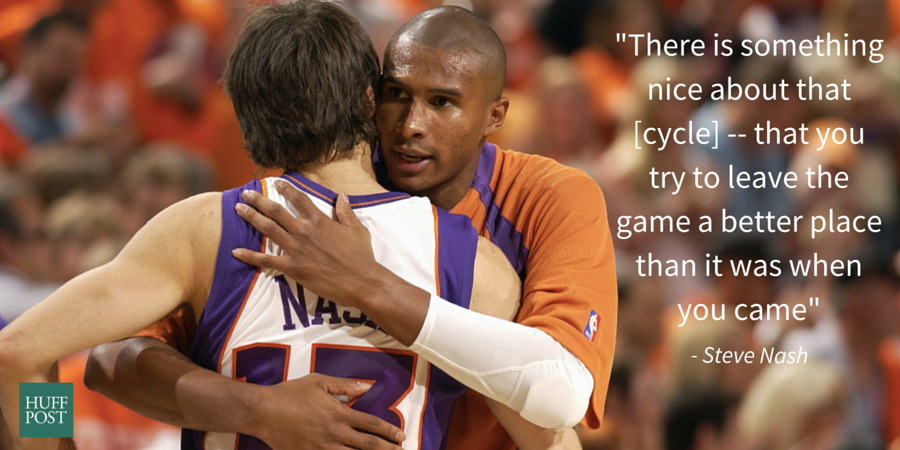 In your own career, what mentor-mentee relationships did you have that were comparable to the one we're going to see on screen between Chandler and Booker?
When I was a rookie [on the Suns], Rex Chapman was a veteran that had a big impact on me and taught me a lot of things about the league. He taught me a lot about how to be a pro and what it took to survive in this league and to thrive in it, so I've experienced it on that side of things -- and there were also others, for sure.
And then on the other end of the [mentorship] spectrum, I remember when I first came back to Phoenix, [working with younger] guys like Leandro Barbosa -- and we're still very close -- [who was then] 22, 23 years old. I was able to reverse roles and share the things [I'd learned], as I did, hopefully, for the last 10 years of my career when I was able to come into contact with different players.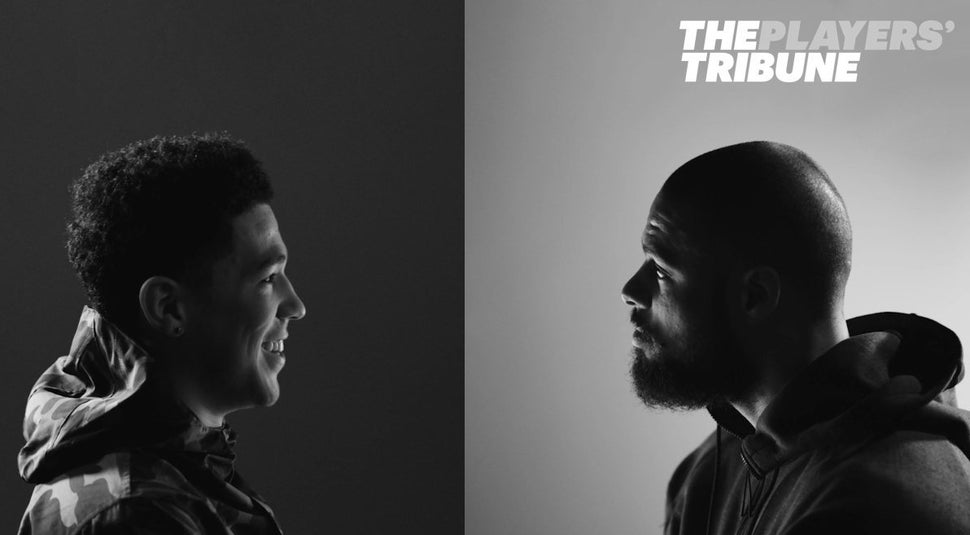 Why do you think that this rookie-veteran dynamic is so important as players transition into the league?
It's kind of poetic -- because it's very cyclical. You have a player coming into the league -- green, unsure of what to expect or how to survive -- and you have a veteran that was once in his place, who's able to impact that younger player. And before they leave the league, it's rewarding and cathartic to be at that point where you are sharing lessons learned and you are giving back, so to speak, to those who came after you, as an homage, perhaps, to those that came before you and helped you. So there is something, I think, beautiful about it … [and] I feel like that symmetry or cyclical nature of the relationship is kind of like life: People come and go, someone passes away and another person is born.
I think Steph [would beat me in a shooting contest] ... He's phenomenal, and I think he's probably the best shooter we've ever had in the game.
There is something nice about that [cycle] -- that you try to leave the game a better place than it was when you came, and you give back where you were once the recipient of those lessons. So I think it's beautiful and I think it's so impactful for a young player to be paired up with a solid veteran. And you see some people that maybe aren't paired up with a Tyson Chandler-type person, and they are so much worse off for not having a person like that on their team or in their life. I know Devin is going to be greatly impacted, and I'm sure we'll see it as the series progresses.
Today, in your post-playing days, you're acting as a player development coach for the red-hot, record-breaking, reigning champs: the Golden State Warriors. What's it been like to work this team in what really amounts to a new type of mentorship role for you?
It's a pleasure to be associated such a successful organization and team. To be honest, I haven't had to do much at all. They're obviously a historic team at this point in the season, and it's a pleasure to watch them do what they do. I can't take any credit for what they've done. I'm here for them, whenever they need me, if I can be of help in my role, but, frankly, they're a championship team and they're well-oiled and obviously flying, so I can't really take any credit there. If anything, I'm trying to learn from watching the organization and how they built a culture and chemistry in such a short period of time and had so much success so quickly.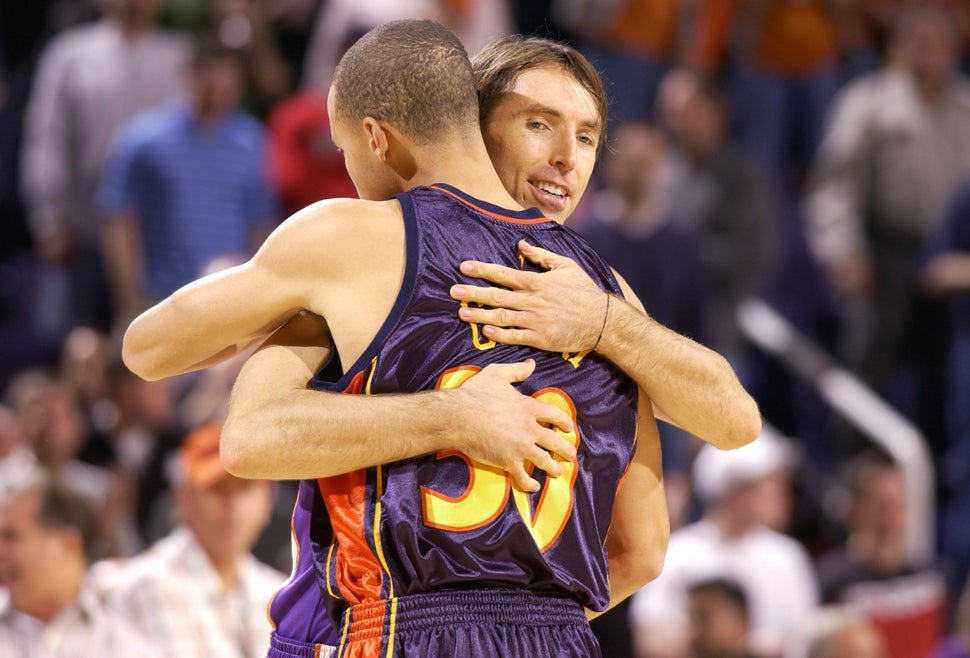 I have to ask -- shooting contest, you versus Stephen Curry. Who wins?
I think Steph. He's got me beat there. He's phenomenal, and I think he's probably the best shooter we've ever had in the game.
One of the other big storylines in the NBA this year is Kobe Bryant's impending retirement. You two were Western Conference rivals for years before eventually becoming teammates. Given your unique relationship, what goes through your head now, as he marches towards retirement?
He deserves a last lap, so to speak, and all the attention and accolades he gets. He's had a career that very, very few have had, and he's one of the best to ever play the game, so -- like we see in some ways in "Rookie/Vet" -- it's that cycle of life: It has to come to an end as all things have to, but at the same time what he's accomplished has been out of this world.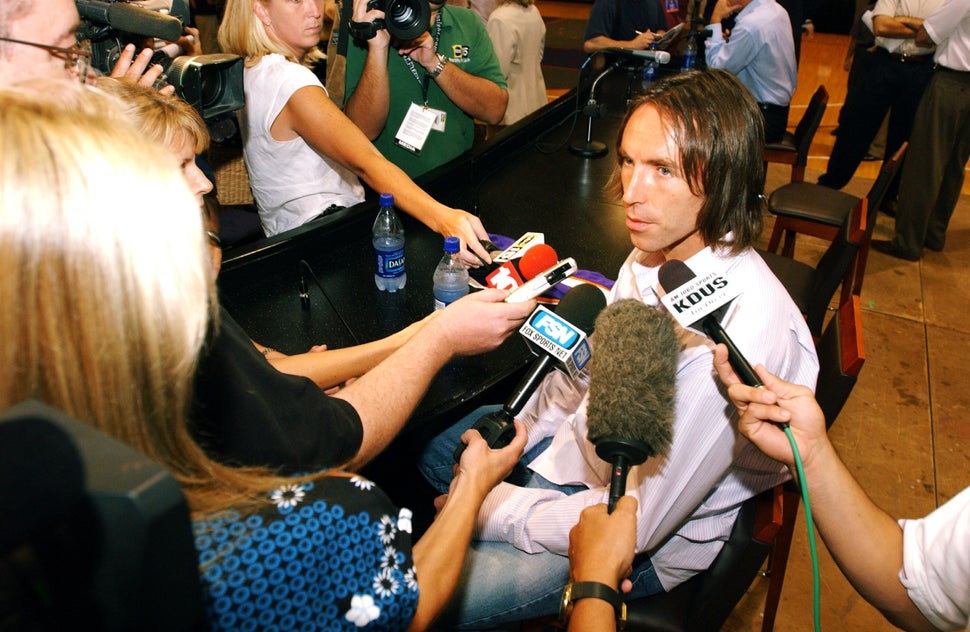 I think it's an individual thing, I don't think I can speak on [the specific James situation] because I'm not LeBron. I don't know what's going on in his life or what the parameters and contributing factors are to why he would or wouldn't speak up [on a given issue]. So, unless I could have a detailed conversation with him and understand his perspective, there's no way I could judge him for speaking out or not speaking out.
So, unless I could have a detailed conversation with him and understand his perspective, there's no way I could judge him for speaking out or not speaking out.
I think a difficult thing for people to understand is that we're all individuals as well, going through different things in our own right and doing different things. He's probably done a lot of things for people in Ohio, and so for people to make a blanket statement or criticize him without knowing why he decided not to speak out I think is rash.
This interview has been edited and condensed for clarity.  
PHOTO GALLERY
Amazing Sports Photos
Calling all HuffPost superfans!
Sign up for membership to become a founding member and help shape HuffPost's next chapter