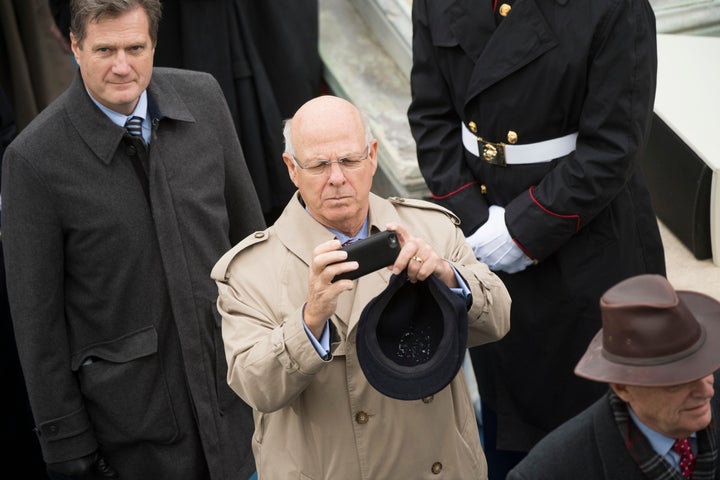 Rep. Steve Pearce (R-N.M.) once said that same-sex marriage would lead to "polymorphism" and an onslaught of people "marrying everyone in California with AIDS" to obtain health benefits for them.
In a YouTube video apparently recorded on Sept. 20, 2008, Pearce discusses same-sex marriage, which at the time was recognized in only two states and was the subject of intense national debate.
"What's going on with gay marriage is ... the redefining of a social institution. And the redefinition has serious downside results," Pearce says in the video. "The next step then is polymorphism, where one marries many."
The video, which was posted to YouTube in October 2008, is described as occurring at an event the previous month in Carrizozo, New Mexico. It was recently identified by the progressive American Bridge 21st Century PAC and sent to HuffPost.
Pearce goes on to say that gay marriage would beget widespread fraud.
"Where this all gets headed is toward the access to benefits, and so you can imagine that a person would say, 'Oh all these people in California don't have access to AIDS treatments.' ... They might say this to themselves: 'I'm gonna marry everybody in California with AIDS,' and suddenly they've got access to the, maybe the benefit program, the health insurance that a single person has."
While Pearce spokeswoman Keeley Christensen could not confirm the event's date and location, she mostly did not distance the seven-term congressman from the remarks.
"Congressman Pearce believes the government should not be involved in redefining marriage. He personally believes marriage is between a man and a woman," said Christensen. "The issue, however, is settled law."
Pearce is running unopposed in the Republican primary to replace two-term Gov. Susana Martinez (R-N.M.), whom state law bars from seeking re-election this year. U.S. Rep. Michelle Lujan Grisham, whose district covers Albuquerque and much of its outlying areas, is the favorite to win the Democratic nomination, but is facing challenges from Jeff Apodaca, a businessman and son of former Gov. Jerry Apodaca, and state Sen. Joe Cervantes.
The Democratic Governors Association denounced Pearce's remarks in a statement to HuffPost.
"These offensive comments only further confirm that Steve Pearce is too extreme for New Mexico," said association press secretary Melissa Miller. "The state's next governor will have their work cut out for them to turn New Mexico around from Governor Martinez' mismanagement, and that can only happen with leadership that values making an inclusive economy that works for every New Mexican, not pushing an extreme social agenda."
Pearce, who has a deeply conservative track record in Congress and is a member of the ultra conservative House Freedom Caucus, has a long history of making inflammatory comments about social issues.
In his 2014 memoirs, he wrote that his family organized itself upon the biblical principle that the wife is to "voluntarily submit" to the husband.
"The wife is to voluntarily submit, just as the husband is to lovingly lead and sacrifice," Pearce wrote. "The husband's part is to show up during the times of deep stress, take the leadership role and be accountable for the outcome, blaming no one else."
In a 2004 debate, as reported by The Associated Press, Pearce challenged same-sex marriage on both biological and cultural grounds.
"Nature is the one that describes marriage as between a man and a woman, designed to support a family," Pearce said. "In my opinion, same-sex marriages do not advance our culture at all."
Popular in the Community