I had the privilege of knowing Steve Popovich, whom I met several years ago when I was working for Steven Van Zandt. Pops was one of a kind: a generous, warm-hearted, talented, visionary soul who changed the face of popular music as we know it, not once but several times.
Steve was born in 1942 in Western Pennsylvania in the town of Nemacolin, a coal town constructed by the Youngstown Sheet and Tube Company close to the Monongahela River. His father was a coal miner. Steve's long career in the music industry began when he convinced polka legend Frank Yankovic to help him get hired for a job in the Cleveland warehouse of Columbia Records in 1962. He promoted artists such as Blood Sweat & Tears, Billy Joe Royal, and Paul Revere & the Raiders. In 1969 he became Director of Promotion Ron Alexenburg's assistant and was made Vice President of Promotion by Clive Davis in 1972, the youngest VP at CBS. Popovich was instrumental in the careers of Bruce Springsteen, Bob Dylan, Johnny Cash, Earth Wind & Fire, Chicago, Johnny Mathis, Janis Joplin, and Santana, among many others.
In the early to mid 70's in A&R at Epic Records, Popovich signed Meat Loaf, Southside Johnny and the Asbury Jukes, Cheap Trick, Boston, Betty LaVette, Doc Severensen, Charlie Rich, Mott the Hoople, and more. In 1977 he began his own imprint label as part of the Epic/CBS Records family, Cleveland International. The first artist signed was Meat Loaf, whose first album Bat Out of Hell in 1977 eventually became a platinum record fourteen times over, selling over 40 million copies worldwide. Composer Jim Steinman along with Meat Loaf had been turned down over and over again by those unwilling to take a chance on their album - until they met Steve Popovich. The meeting was engineered by Steven Van Zandt, who at the time was the Asbury Jukes' manager, producer, lyricist, and musical director. It's been reported that that Popovich accepted the project after hearing the spoken intro to "You Took the Words Right Out of My Mouth (Hot Summer Night)".
Steve Popovich was one of those few who believed in Bruce Springsteen in the early years before Born to Run made him a star, and urged Columbia Records to keep him on when his first two records proved less than stellar in sales. When he created Cleveland International Records, the first single issued from the label was "Say Goodbye to Hollywood / Baby Please Don't Go" by Ronnie Spector backed by the E Street Band, arranged and produced by "Sugar" Miami Steve Van Zandt. Spector had recorded a few songs with Southside Johnny and the Asbury Jukes and joined them onstage for several shows in the mid-70's. The A-side of the record was an incredible cover of the Billy Joel song, the B-side a beautiful and criminally underappreciated ballad by Van Zandt.
Dave Marsh wrote liner notes for the single which are just as gorgeous and beautifully phrased as the music within:
It's a great temptation to view Ronnie Spector as a rare and precious treasure that we once held but somehow slipped away. After all, so many of us fell in love the first time we heard her sing -- "Be My Baby," "Do I Love You," "Walking In The Rain," or one of the half dozen other singles she made as Veronica, lead singer of the Ronettes...Well, it only takes about 15 seconds to realize that the magic is back -- it happens in the introduction to "Say Goodbye To Hollywood" with a mighty screech from the hot horn of Clarence Clemons. Clemons plays tenor sax, but it might as well be a herald's trumpet announcing the return of the queen of our hearts...Van Zandt had the aid of his cohorts in the 'E' Street Band on this record. "Say Goodbye To Hollywood" is pure power, but listen also to "Baby Please Don't Go," where Roy Bittan's piano has a music box delicacy and Clemons' sax is used to soothe rather than scourge...
Steve Popovich was a passionate and devoted man, a grandfather who doted on his grandkids as well as on his two children Steve Jr. and Pam, a driven workaholic who nevertheless always had time for you if you needed something. A few years ago I was working on archival research for a film about Johnny Cash and he freely gave of his time to speak with me and share his own prodigious memories of signing Cash in the 1980s to Mercury Records where he headed up the country division, sparking a career revival for the music legend.
In 1995, Popovich sued Sony Music for unpaid royalties from the sales of Bat Out of Hell and ten years later the company was directed to pay damages of over 5 million dollars. Popovich told John Petkovic of The Plain Dealer, ""Harvard lawyers and Sony think they can cheat people out of their hard work because people are too scared to take them on. Well, they took on the wrong guy. . . . I don't give a [expletive] what some corporation thinks about me."
One of my favorite memories of Steve is when he took my former boss and me to Sokolowski's University Inn, one of Cleveland's oldest family owned and operated restaurants, a landmark cafeteria style eatery which dates back to 1923. Of course Steve knew the owners and the entire staff, and urged us to try the famed coconut cream pie which was just about the best I've ever had. The photo below was taken there that day.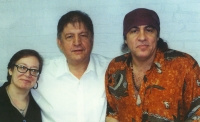 "Steve just loved music," former WMMS Program Director John Gorman said to NPR reporter Vivan Goodman. "When Steve got behind something you knew it was good music -- he had a gift, he really had an ear for all kinds of music." One of Popovich's happiest moments ever was when Cleveland was chosen as the site for the Rock & Roll Hall of Fame + Museum -- which he had a lion's share in helping to make happen. He was a tireless champion for the city which many had called 'the mistake by the lake.'
To say Steve Popovich will be missed is a grand understatement. Tributes continue to be posted on the internet from those whose lives he touched - ranging from music industry executives he worked with to artists who were forever changed by his magic touch. From Eric Carmen:
I grew up in Cleveland, and I can tell you Steve was one of the nicest, most down to earth guys that I've ever met in the music business. He was ALL about the music. Not just Meat Loaf, but ALL MUSIC! He's another one of those guys who those of us in the business who had to deal with major labels were blessed to know. He wasn't a "major label" kind of guy. He was for the artist. All the way. He fought for you. He died for you. He believed in you, and he fought the major powers to help you.
The man was a walking talking music promo machine that wouldn't take the word NO from the gatekeepers. I learned many great lessons from Steve and will miss his calls and visits. The ultimate mensch.
One of the finest human beings I have ever known. He knew so much about the music business and always shared his insights with me. Kindness and genuine caring for others unmatched in this world of ours.

Contributions in Steve's name can be made to the Stephen C. Popovich Memorial Fund, c/o US Bank, 2504 Old Fort Pkwy, Murfreesboro, TN 37128.

Popular in the Community