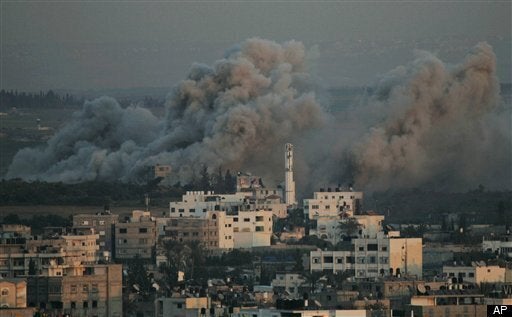 I'm not going to comment on Steve Rosen's ridiculous Obama and J Steet bashing piece in Foreign Policy today except to ask why this guy has any kind of platform whatsoever.
I know the espionage case against him was dropped. But that does not make him innocent. And he's not -- not in the larger sense.
He spent his entire career at AIPAC trying to sabotage any chance of peace between Israelis and Palestinians and -- he brags about this -- successfully convincing Republican administrations that US and Israeli interests are identical. Prime Minister Rabin tried to get him fired; neither he nor Shimon Peres considered him remotely loyal to Israel.
He is not guilty of dual loyalties but rather of none. He is not pro-Israel in any sense that I know. He is simply pro-Likud and devoted to destroying the careers of anyone who dissents from the Likud line. (He can't do that anymore so the indictment was worth something). Within AIPAC he ran Stalinist-type purges against Democrats, successfully plotting the removal of former Ted Kennedy aide, Exective Director Tom Dine, and Democratic Congressional aide, Doug Bloomfield, who was AIPAC's legislative director.
The government's case against him was too weak to prosecute but his whole career has been cloak and dagger. I say that as the person who received the famous memo from Rosen in 1982. "A lobby is like a night flower. It thrives in the dark and withers in the light."
Here is the money paragraph in Rosen's screed.
Some Netanyahu advisors think that Obama is himself a man of the left and that top aides like Rahm Emanuel and David Axelrod are closet J-Streeters in the White House. Instead, however, Obama and his top advisors are instinctively drawn to the center-left, like Bill and Hillary Clinton. He is more likely to take advice from the National Security Council's Dennis Ross than from more-leftist deputy Mideast peace envoy Mara Rudman or the ubiquitous peace pundit Daniel Levy.
Clever. Rosen is defending Obama against "closet" lefties like J Street and his own aides. So nice of Rosen who, of course, openly despises Obama.
In other words a guy indicted under the Espionage Act is questioning the credibility of J Street, Obama advisers, and peace advocate, Daniel Levy, who actually left a rather comfortable life in London (his dad is in the House of Lords) to move to Israel and who, in fact, did his time in the IDF.
Congratulations, Rosen, on the case being dropped and good luck with your law suit against AIPAC (AIPAC fired him when it saw the evidence against him). And "you go boy" with your new career of libeling people frontally rather than by calling on their employers to fire them. (I'm proud that he never got me purged. It's one of the reasons I am one of the few former AIPAC employees who openly talks about him. I would not have credibility if he actually succeeded in getting me fired as he did Dine, Bloomfield, and various journalists, government employees, Jewish organizational figures, etc.)
But know this. You are now a novelty act. Big deal, the case was dropped. OJ Simpson was acquitted. His views on spousal abuse are as credible as your advice to American policymakers.
You can't huddle with the Americans. To do that you have to be on our team.
Calling all HuffPost superfans!
Sign up for membership to become a founding member and help shape HuffPost's next chapter