WASHINGTON -- House Majority Whip Steve Scalise (R-La.), whose office has been beating back criticism about a speech he gave at a 2002 gathering hosted by a white supremacist group, received some ill-timed praise from the group's founder Monday evening. The notorious former Ku Klux Klan leader David Duke described Scalise as "a fine family man" with whom he often agrees.
For his part, Scalise's office has said he was unaware of the white supremacist group's views when as a state lawmaker, he spoke at the 2002 conference. But in 1999, then-state Rep. Scalise told a Washington newspaper that he agreed with many of Duke's "conservative" views.
Duke told The Huffington Post that he doesn't remember speaking with Scalise before the conference. (He later told The Washington Post that Scalise was invited to the event by two of his longtime associates, Howie Farrell and Kenny Knight.) But it would have been nothing out of the ordinary for a Louisiana Republican at the time, Duke claimed.
"I literally defeated the Republican sitting governor of that state," said Duke, referring to the 1991 race in which he forced a runoff against Democratic candidate Edwin Edwards. "I had a huge amount of Republican support."
Duke's 1991 campaign had already made the former Ku Klux Klan leader a pariah in the rest of the country. He ultimately lost the gubernatorial race to Edwards, but many observers noted that he won a majority of the state's white voters. Duke claimed Monday that within Louisiana, he was still well respected. As late as 2000, he pointed out, he sat on his local district's Republican Party executive committee.
At the time, Duke had spent two years abroad after federal agents raided his home as part of an investigation into mail fraud and tax charges. He spoke to the 2002 conference via a teleconference link from Russia, so he is not sure whether Scalise would have heard his speech, which referenced his conspiracy theory about how "Israeli treachery" was involved in the 9/11 attacks.
"Even Republicans go to NAACP meetings, even though they may have disagreements with that group," said Duke. He called Scalise "a good person," with whom he agrees on many issues.
Duke and Scalise seem to have had plenty of agreements in the late 1990s and early 2000s. A January 1999 Roll Call story, unearthed by the blog Little Green Footballs from a listserv archive, suggests that Duke's claims about his mainstream role within the state Republican Party may not be far off. (Roll Call later posted the full story on its website.) The article, written by then-Roll Call reporter John Mercurio, detailed a special election for the U.S. House seat in Louisiana's 1st Congressional District. Duke, who had previously served as a state representative, was considering running, and Mercurio spoke to a number of his potential rivals, including Scalise:
Another potential candidate, state Rep. Steve Scalise (R), said he embraces many of the same "conservative" views as Duke, but is far more viable.

"The novelty of David Duke has worn off," said Scalise. "The voters in this district are smart enough to realize that they need to get behind someone who not only believes in the issues they care about, but also can get elected. Duke has proven that he can't get elected, and that's the first and most important thing."
A Scalise spokesperson did not immediately return The Huffington Post's request for comment on Duke's remarks and the Roll Call story.
By 2004, according to New Orleans CityBusiness, Scalise was condemning Duke, who by then was in federal prison on tax charges. Still, Duke was again considering a run for the 1st District seat.
"David Duke is an embarrassment to our district and his message of hate only serves to divide us," Scalise told the newspaper.
Scalise's own message has not always been one of inclusion. Months after criticizing Duke, he was one of six state representatives who voted against making Martin Luther King Jr. Day a state holiday. He had also voted against a similar bill in 1999.
In a 2008 ad during his first successful bid for Congress, Scalise accused Democratic rival Jim Harlan of "endorsing Obama's liberal and dangerous agenda shaped by radicals like Rev. [Jeremiah] Wright." His campaign also put out a flier with Harlan's photo near the star and crescent symbol, commonly associated with Islam.
In 2011, Scalise endorsed then-state Rep. John LaBruzzo's re-election campaign in the district that had once been represented by Duke. He did so despite the fact that just three years earlier, LaBruzzo, a Republican, got into hot water for proposing to pay poor women to be sterilized or otherwise to not have children, while rich, better-educated women could be given incentives to reproduce.
LaBruzzo faced significant public backlash over his remarks, and he was ultimately stripped of his position as vice chairman of the state House Health and Welfare Committee.
At the time of LaBruzzo's remarks, Scalise was making that original bid for a U.S. House seat, and he touted an endorsement from LaBruzzo on his campaign site.
Twelve years ago, Scalise spoke at a two-day conference hosted by the Duke-founded European-American Unity and Rights Organization, which is recognized as a hate group by the Southern Poverty Law Center.
On Monday, he told NOLA.com, "I didn't know who all of these groups were and I detest any kind of hate group. For anyone to suggest that I was involved with a group like that is insulting and ludicrous."
"In 2002, he made himself available to anyone who wanted to hear his proposal to eliminate slush funds that wasted millions of taxpayer dollars as well as his opposition to a proposed tax increase on middle-class families," Scalise spokeswoman Moira Bagley Smith told HuffPost in a statement about the EURO event earlier on Monday. "He has never been affiliated with the abhorrent group in question. The hate-fueled ignorance and intolerance that group projects is in stark contradiction to what Mr. Scalise believes and practices as a father, a husband, and a devoted Catholic."
Scalise isn't the only House Republican plagued by ties to white supremacist groups. Rep. Daniel Webster (R-Fla.), who was elected to Congress in 2010, touted an endorsement from Christian conservative activist David Barton, who twice gave speeches to white supremacist groups. Barton has also advocated for removing civil rights leaders from Texas textbooks.
CORRECTION: David Duke said that he sat on his local district's Republican Party executive committee as late as 2000, not 2002.
Before You Go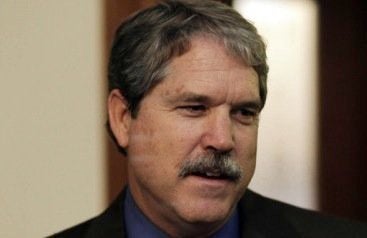 Racist Remarks Made By Politicians
Popular in the Community