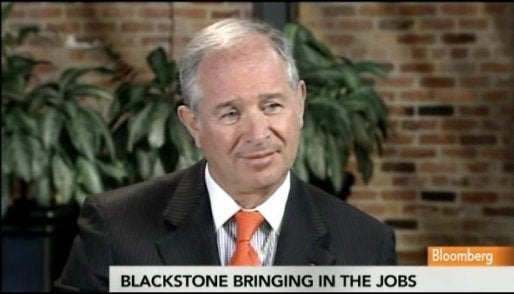 The billionaire who last year compared Obama's attempts to raise taxes on private equity firms with Hitler's invasion of Poland, on Monday said even rich Americans will have to "give something up" to help narrow the deficit.
In response to a question about raising taxes on the richest 2 percent of Americans, Stephen Schwarzman, the billionaire founder of private equity giant, the Blackstone Group, said the deficit was serious enough that almost everybody in society would have to "give something up." (Scroll down for video.)
"And no one's going to like it," Schwarzman told Bloomberg. "It's like medicine in the old days that tasted really bad, but if you didn't take your medicine, you weren't going to get healthy," he said of the attempts to effectively end the Bush-era tax cuts.
"I think this is a widespread issue where everyone is going to be giving something up, and if you don't, you're not going to be able to solve the problems we have." If Americans didn't make sacrifices, he said, people's livelihoods would be under threat -- and everybody but the poorest Americans, who need protection, he said -- would have to chip in, he reiterated.
The comments appear to mark a reversal for the billionaire, who last year, compared an Obama administration push to increase taxes on private equity firms -- so they would pay the same tax rate as the rest of America -- to a "war... like when Hitler invaded Poland in 1939." In Monday's Bloomberg interview, Schwarzman noted that the rhetoric from politicians has been more sympathetic towards business since the mid-term elections in November.
Earlier in 2010 Schwarzman also controvertially said that Wall Street-bashing would make banks "insecure" and tighten up lending.
The remarks come as a battle rages over how to make up the budget shortfall. The Obama administration and Congress must come up with an aggressive long-term plan to reduce the currently $1.5 trillion budget deficit, roughly equivalent to 9.8 percent of U.S. economic output.
Earlier this month, the Obama administration proposed a plan that would cut $4 trillion from the budget deficit over the next 12 years, mostly through spending cuts and tax hikes on the rich. Just before, the Republican-controlled House of Representatives approved a different deal to reduce deficits by $4 trillion over the next 10 years while also extending President George W. Bush's tax cuts at all income levels and repealing Obama's health care law.
The two factions must strike a deal before the country reaches its $14.3 trillion debt ceiling -- the maximum amount it can borrow under law. Treasury Secretary Tim Geithner has warned Congress that the debt limit will be hit by May 16, but that he can take "extraordinary measures" to make sure the nation's debts are paid until roughly July 8, at which point the government would default on some of its debts.