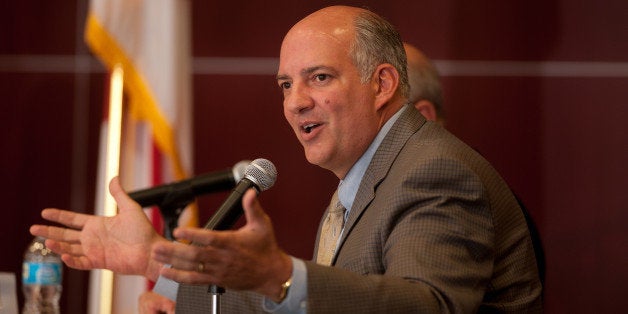 The "small group of concerned men" invited to a Republican congressman's fundraiser were instructed to "tell the Misses not to wait up" so they could enjoy "after dinner whiskey and cigars" without any women present.
BuzzFeed reported Thursday on an invitation sent by Rep. Steve Southerland's (R-Fla.) campaign in March.
"Good men sitting around discussing & solving political & social problems over fine food & drink date back to the 12th Century with King Arthur's Round Table," the invitation said, before going on to detail the five-course menu.
The campaign of Gwen Graham, Southerland's Democratic challenger, called the fundraiser "offensive" in a statement emailed to The Huffington Post.
"Now that we've learned we have a 'leave the misses at home' Congressman, it's time for us to be 'send the Congressman home' voters," Graham Campaign Manager Julia Gill Woodward wrote. "Congressman Southerland is dismissing this offensive fundraiser as 'a private event,' and that's the problem: Congressman Southerland tells us one thing in public, while doing the opposite in private. That, without question, is The Washington Way of doing business, and it's wrong for North Florida."
Southerland campaign manager Luke Strickland told BuzzFeed that bringing attention to the private event was "laughable."
The representative has previously said he voted to reauthorize the Violence Against Women Act in a television ad without mentioning that he voted for a weaker version that wasn't ultimately passed out of Congress.
Graham, who has outraised Southerland, is the daughter of Bob Graham, Florida's popular former governor and senator.
Calling all HuffPost superfans!
Sign up for membership to become a founding member and help shape HuffPost's next chapter
BEFORE YOU GO
PHOTO GALLERY
113th Congress Facts