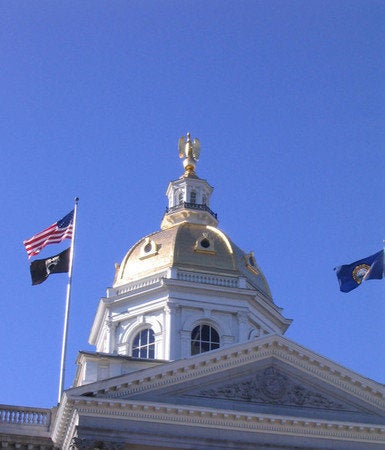 A Republican lawmaker in New Hampshire was physically removed from the state House of Representatives on Tuesday afternoon after he made a Nazi salute during a contentious debate about limiting what is considered valid voter identification.
Rep. Steve Vaillancourt (R-Manchester) shouted, "Sieg Heil" and moved his hand in the air after House Speaker William O'Brien (R-Mont Vernon) restricted what he could address during a floor debate on an amendment to a state voter ID bill. O'Brien had restricted what Vaillancourt could say about the full bill, saying that he could not reference the House Election Law Committee's discussion, only the issues presented in the committee report.
O'Brien, who had previously threatened to toss Vaillancourt from the floor, used Vaillancourt's outburst to have the veteran lawmaker moved off the floor. It is the first time in at least a decade that a House member has been removed from the chamber in New Hampshire. House members then voted 238 to 103 to allow Vaillancourt to apologize to the full chamber in order to be allowed back in, setting off further debate when Vaillancourt did not apologize in the manner that O'Brien had expected.
"Part of the apology is to get the record straight. I did not use the word 'Hitler,'" Vaillancourt said before O'Brien ordered him away from the podium.
State House police were called to remove Vaillancourt from the chamber, where he was sitting in his seat, with several House members tweeting that he would not leave. Rep. Christopher Serlin (D-Portsmouth) tweeted that "Stand Our Ground" was shouted by House members just before police physically removed Vaillancourt from the chamber. O'Brien also had Vaillancourt's voting card taken from him to prevent him from casting votes. A committee was formed by O'Brien that would meet with Vaillancourt to discuss his apology.
Vaillancourt did not return an email requesting comment. A photo tweeted by Rep. Jon Richardson (R-Allenstown) shows Vaillancourt sitting in the back of the chamber with police behind him and multiple people taking cell phone photos of the scene.
The House debate over Vaillancourt's comments elicited strong reactions on both sides of the aisle, with Democrats defending the lawmaker while Republicans described Vaillancourt's Nazi reference as offensive to the people of the Granite State. Rep. Bob Kingsbury (R-Laconia), an 86-year-old World War II veteran, used his experiences in Europe to describe his objection to Vaillancourt's objection. Kingsbury suggested that O'Brien did not go far enough in disciplining Vaillancourt.
"You can make all kinds of excuses that you want," Kingsbury said. "To me this is a deep-down personal insult. In my opinion, this representative should be expelled."
One Democratic member said that Vaillancourt's statement was only a German phrase. "All he said was 'victory' in German," the lawmaker said.
The amendment under discussion by the House at the time of Vaillancourt's outburst would limit voter identification in the state to driver's licenses, state photo ID cards, military ID cards, passports and voter affidavits. In order for voters to use an affidavit, they would would have to have their photo taken at the polls on Election Day. The amendment, which is part of pending bill before the legislature, limits some of the forms of identification previously included in the bill. The amendment passed, with several representatives noting that Vaillancourt cast a vote before being removed from the chamber.
Supporters of the amendment said it was needed to prevent voter fraud, citing cases from New York's Tammany Hall in the early 20th century, Chicago and Acorn. The proponents argued that voter turnout will not go down, claiming that voter ID requirements did not surpress turnout in Tennessee or Wichita, Kan. Opponents asserted that the new amendment is too restrictive and would diminish student turnout by not authorizing the use of student IDs. They also noted that there have been no cases of voter fraud in New Hampshire, a point disputed by the measure's supporters.
"There is no effort to determine voter fraud in this state," Rep. David Bates (R-Windham) said. "Opponents should not say there no voter fraud in New Hampshire.
Concord Patch reported that Rep. Steve Vaillancourt has agreed to apologize when the House of Representatives reconvenes this afternoon. Vaillancourt declined Patch a full interview on the subject, but described his earlier remarks as "vile" and "inflammatory."
The lawmaker did disagree with one point brought up about his comments.
"'There was no Nazi salute at all,' Vaillancourt said, suggesting that he did not offer a Hitler hand motion, only a verbal offering," Concord Patch reported.
New Hampshire Republican Party Chairman Wayne McDonald released a statement Tuesday afternoon praising House Speaker William O'Brien's decision to seek an apology from Vaillancourt and placed blame with Democrats.
"Especially in the face of such a reprehensible and inappropriate remark, it's my hope that the House could be united in resolving such an offensive comment," McDonald said. "Democrats often talk about the sharp partisanship in Concord, and today Rep. [Terie] Norelli's decision to divide along party lines Speaker O'Brien's efforts to seek an apology from Rep. Vaillancourt prove once again that it's her Democrat party that is responsible for the partisanship."
CORRECTION: This story has been updated to reflect that Rep. Steve Vaillancourt is a Republican, not a Democrat.
Popular in the Community