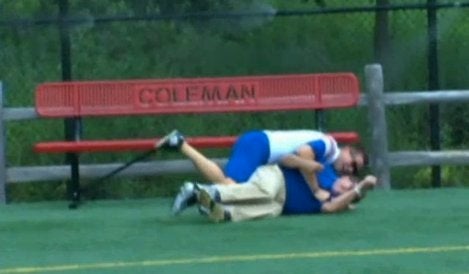 During the clinic, a line of little kids were returning kicks when the last person chosen to participate was Beck, when this happened....
On his sportscast, Beck relived the horror, noting his sixth sense of what was about to happen, grabbing his sunglasses in the "blazing sun" and praying that he would at least make the catch.
"And I did! I made a stunning move to break free. But moments later Weatherford was right on top of me and dropped me like a ton of bricks! I was lucky to be alive. I was fortunate not to break any bones," Beck said.
Either prayer didn't work out so well for Beck or the person he was praying to has a good sense of humor.
Great job by Weatherford for seizing the moment to provide a little entertainment for the kids out there. I'm sure Beck will be his biggest fan in future broadcasts for fear of getting blindsided by the punter again. So yes, punters can indeed tackle... sportscasters. At least it's a start.
Popular in the Community