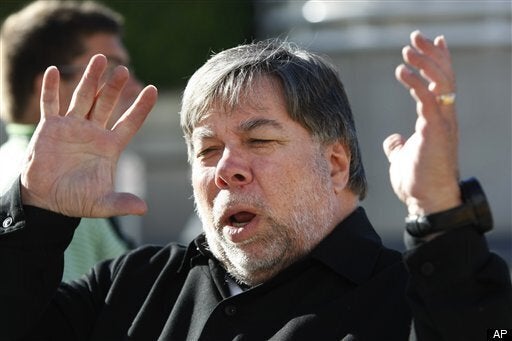 UPDATE: Steve Wozniak contacted Engadget to clarify his statement to De Telegraaf. Wozniak said the remarks attributed to him in the article were not quite right.
According to Engadget, Wozniak said he'd "'never' say that Android was better than iOS, and that 'Almost every app I have is better on the iPhone.'" Engadget continues, "Woz did say he lightly prognosticated that Android would become more popular 'based on what I've read,' but that he expects Android 'to be a lot like Windows... I'm not trying to put Android down, but I'm not suggesting it's better than iOS by any stretch of the imagination. But it can get greater marketshare and still be crappy.'"
Apple co-founder Steve Wozniak shared his thoughts on Android, the iPhone, Nokia, and more in an interview with De Telegraaf, a Dutch newspaper.
Rivalry between Google's Android operating system and Apple's iPhone has intensified recently, and Wozniak seems to think Android may come out ahead.
According to a translation of the article, Wozniak predicts Android will, before long, be on par with the iPhone and may even overtake it.
Engadget summarizes Wozniak's perspective:
Woz then moved on to the topic of Android saying that Android smartphones, not the iPhone, would become dominant, noting that the Google OS is likely to win the race similarly to the way that Windows ultimately dominated the PC world. Woz stressed that the iPhone, "Has very few weak points. There aren't any real complaints and problems. In terms of quality, the iPhone is leading." However, he then conceded that, "Android phones have more features," and offer more choice for more people. Eventually, he thinks that Android quality, consistency, and user satisfaction will match iOS.
Wozniak expressed concerns about Google's prospects when he spoke at a conference in Valencia earlier this year.
"I love Google but I'm afraid it has the chance to of becoming the the Microsoft of the future," he said at the time. "You remember how Microsoft used all of their ownership of the operating system to take over the browser."
What do you make of Wozniak's prediction? Weigh in below.
Support HuffPost
The Stakes Have Never Been Higher
Related
Popular in the Community