In a claim that even he admitted might be his "cockiest" yet, ESPN personality Stephen A. Smith argued Monday that, if he had been the prosecutor on the O.J. Simpson trial, he would've been able to outwit legendary defense attorney Johnnie Cochran and prove to the jury that Simpson did indeed murder ex-wife Nicole Brown Smith and Ronald Goldman.
"I believe the evidence was clear," Smith said on his show First Take. "[It] might be the cockiest thing I have ever said … [but] if it were me, there's no way in hell Johnnie Cochran would have beaten me with that evidence that they had. I'm telling you right now -- I'm not even a lawyer. There is no way that you would have put 12 jurors in front of me with that evidence and I would have lost."
Simpson, whom Smith called "guilty as hell," was found not guilty on Oct. 3, 1995, in what remains an extremely controversial verdict. The prosecution, led by Marcia Clark and Christopher Darden (whom Smith said did "an absolutely horrendous job"), had a glut of evidence that seemed to tip the case in its favor.
There was the DNA analysis of blood found in Simpson's car, on his socks and elsewhere, seemingly damning Simpson. There was material detailing prior instances of his domestic abuse. And, most notoriously, there was the single leather glove discovered at the scene of the crime, matching the type that Simpson owned.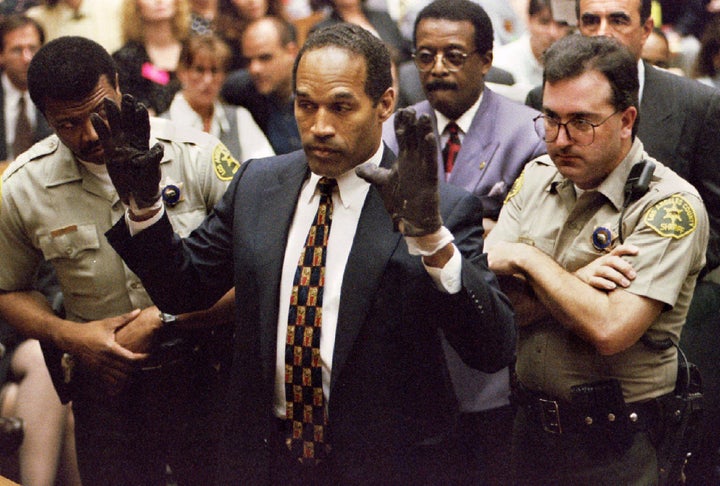 But after a series of stumbles on the prosecution's part -- and a master class of a performance from Cochran and the rest of Simpson's legal team -- Simpson walked. And in the two decades since the case closed, the trial has become a touchstone for both blundering prosecutions and spellbinding defense attorneys.
Leave it to Stephen A. to claim that he would've out-dueled Cochran, thereby changing legal -- and national -- history. Leave it to Stephen A. to see the first part of ESPN's "O.J.: Made in America" documentary that aired this weekend and imagine himself in that Los Angeles courtroom, going one-on-one against the world-class Cochran, convincing the 12 jurors that even if the glove didn't fit, they could not acquit.
Calling all HuffPost superfans!
Sign up for membership to become a founding member and help shape HuffPost's next chapter
BEFORE YOU GO
PHOTO GALLERY
O.J. Simpson Timeline