Paradigm Shifters is a series of interviews with a select group of women and men from eclectic walks of life. It will highlight unspoken, real life insights on how they have been able to turn weakness into strength. A naked soul point of view of how their breakdowns were really a preparation for breakthroughs. They are your quintessential Paradigm Shifters; internal shifts converted into genuine change.
Everything I have ever done has been focused on this underlying theme of shifting the paradigm because, "what we think determines what we feel and what we feel determines what we do." Hence why Empowered by You takes lingerie, which has traditionally been seen merely as a tool of seduction and redirected that energy as a tool of empowerment.
I hope from these stories you will look at your own situations, struggles and accomplishments through a different lens. At the very least you will be more equipped with real life tools to change your own paradigm. At the end of the day we are our own Alchemist turning the silver we were born with into the gold we are destined to become.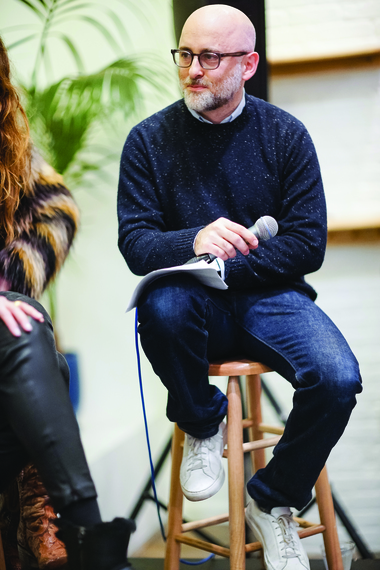 Steven Alan - Fashion Designer & Founder of Steven Alan
What did you gain from working with your parents, and how did that help make you who you are?
I first started going to trade shows with my parents when I was about 10 years old. I got to see how commerce is conducted in retail and how to create your own special environment. I also worked in their retail store when I was very young. Seeing my dad create jewelry and experiencing people get so excited about it enamored me. My parents were doing two things, much like the way I'm doing two things now. They were buying product from designers and also designing their own collections.
What is the common thread that you're looking for in the products and designers that you bring into your showroom or your stores?
For me, the designer has to have a strong point of view. I like to pick something up from a designer, and without seeing the label, recognize who the designer is. Then, from a more practical standpoint, I want to be sure that the quality is really good. There are a lot of people who are really talented designers, but they don't fully understand production - they don't understand the fabrics, and they don't really understand good sewing versus bad sewing. They end up with merchandise that is of a lesser quality and doesn't wear well. So first is the unique identity, and second would be the quality.
What is ultimately your vision for the showroom and your stores?
I like to keep getting better and better - me and the business. When I do better, the business really does do better. As the business grows, it gives us the opportunity to improve even more. Size really affords you the ability to scale in a way that you can't when you don't have the numbers. If you have a greater store presence you are able to scale more efficiently.
We view the wholesale business as a marketing opportunity, and that's something that's different. The Steven Alan brand is primarily direct to consumer in the way that we operate our business. We try to have the highest possible product value in the products that we make.
Has there been a moment in your life where you've been able to see something different and it changed how you lived your life?
It was fundamentally design for me. I had three stages: I was first a retailer, then I started representing designers, and then I began designing my own brand. I still can't sketch - I have to rely on other people to help me with that - but I have a great team. I have made several mistakes over the years and in making those mistakes, the company has grown organically by approaching design in a novel way. I try to design into areas where I see a void in the market, something I've based off my learnings from my time as a buyer.
Another instance where seeing something different impacted my life was with the showroom business. When I started the showroom, it was really like "Well, this is how things are done." You weren't supposed to represent designers that were doing under a million dollars in sales because you just wouldn't have a business. But we did. We represent designers that are a lot smaller. We have these small designers in our showroom and we carry them in our stores, and it is an important part of our DNA.
If you were to say what you want your legacy to be, what would you say?
I would have to say making sure my children are self sufficient, happy, confident, and that they are living their lives to the fullest. That's my own personal view. But I also want to be able to say that I've helped empower people besides my children to do that too. I think I've given a lot of people confidence and hopefully helped them achieve their goals. That's super rewarding to me. I think that's part of why I like having the showroom as well as the stores. I love the idea of helping people achieve their dreams, because I've gotten such tremendous satisfaction out of it.
Steven Alan is an icon in fashion. It is no wonder that design runs deep in his DNA and is manifested in the beautiful clothes he designs and everything he touches. What makes him even more special is that he redirects his light to give a first break to up-and-coming designers. In essence as he grows everyone around him benefits as well. This is what icons are made of. As an iconic designer, he has not only won over the hearts of those he has helped propel but also those with style and foresight for what matters - unique clothes with heritage.
Calling all HuffPost superfans!
Sign up for membership to become a founding member and help shape HuffPost's next chapter