The "Anti-Christ Of Comedy" took "leave 'em in stitches" way too seriously.
Vocativ spoke with witnesses of the attack, who were handed Baldwin's disturbing 888-word manifesto in December, less than a month before Baldwin went on stage at the Local 907 Monday and smacked Avila twice on the head.
Baldwin had been banned from several comedy clubs before, reportedly because his vile, biblical rants didn't make any sense.
In the manifesto, Baldwin lashes out at James Milton, a manager at a comedy club 12 miles away from the crime scene, who also banned "Jesus Christ" from the stage.
The treatise includes some perplexing details about the author's personal life. Born in 1966, Baldwin claims he was honorably discharged from the military and lived in his car with a cat named Black Magic. "Jesus" also worked at an oil change shop, composed frequent letters to Barack Obama and dabbled in time travel.

But for the most part, Baldwin's manifesto takes aim at [James] Milton, blasting the comedy club manager for keeping the son of God off stage.

"James is an atheist who likes to play God with our futures," he writes. "James is a walking prick who needs to have a blow hole tattooed to the top of his head."
Avila thinks he was targeted in the attack Monday because he also banned Baldwin from performing at the club. Baldwin's act apparently consists of holding a double-ended dildo while ranting about his status as the son of God.
"I was just standing up there and then—boom—there was a bat in my face," Avila told Vocativ. He also told KOMO that he had to get stitches in his head and two metal plates inserted into his skull, though he considers himself lucky that he didn't suffer brain damage.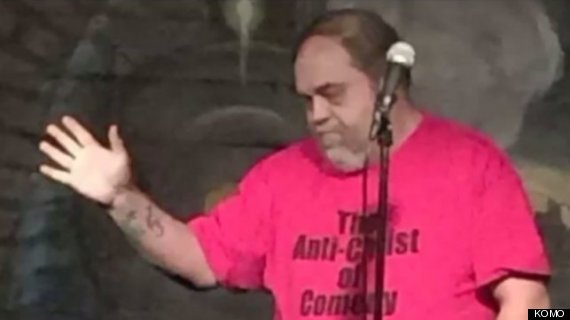 Steven Baldwin, the "Anti-Christ Of Comedy," on one of his "rants."
Baldwin was slapped with a $250,000 bail and remains in King County Jail. His charges are pending.
Meanwhile, Avila's looking forward to his next show, and says he has plenty more material after the assault.
Like Us On Facebook |

Follow Us On Twitter |

Contact The Author
Related
Popular in the Community