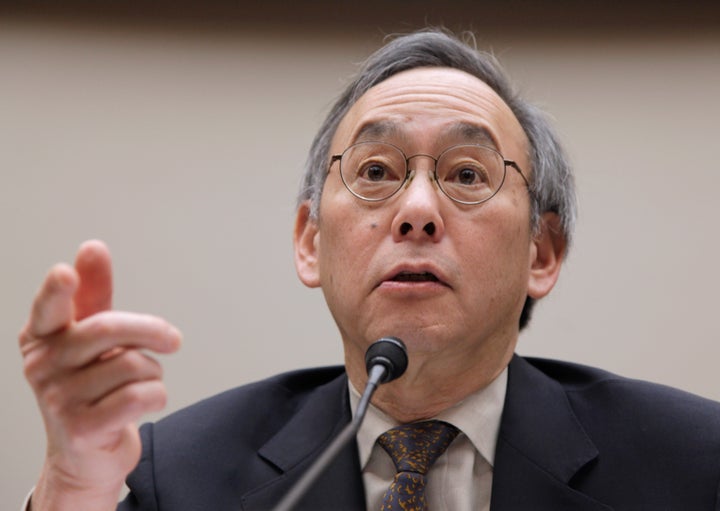 WASHINGTON -- With commodity prices rising dramatically in the past few weeks, the Obama administration on Friday offered a new variation of its defense of proposed budget cuts to a program that provides energy assistance to low-income households.
At a breakfast organized by the Christian Science Monitor, Energy Secretary Steven Chu acknowledged that the administration had made "very, very hard decisions" in proposing to decrease funding for the Low Income Home Energy Assistance Program by $2.5 billion in its 2012 budget. But while President Barack Obama argued in February that lower commodity prices meant less aid was necessary, a subsequent spike has led the administration to reassess its approach to justifying the new funding levels.
On Friday, Chu argued that the administration was pursuing alternate, broader reforms to help stabilize energy prices for households.
"We are shifting the program so that not only includes low, but also middle-income people," Chu said.
"[W]hat we decided to do was begin to say, we need to get [other] programs started. We need to work with the lenders in order to come up with things like, when you buy a home or try to convince lenders, it's prudent to ask about the affordability of the home or for an energy audit… This will stimulate people who want to sell their home to make energy improvements in their home, so they increase the resell value. There are many, many things we're looking through.
"What we're doing is we're looking at those things that are, with a very modest amount of funds, or remodeling funds, you can begin to promote weatherization of homes and buildings. Five billion dollars gets you, what, 750,000 low-income homes, but can you get two billion dollars to now get tens of millions of homes being retrofitted, which becomes highly leveraged. And so, this is what we've found.
"So, we recognize [that] we're looking for programs in this time of austerity, that are more highly leveraged, that will help not only the lowest income people... but also has billions going to the middle income people. There is great opportunity there."
A Nobel Prize winner whose expertise in energy policy does not often lend itself to concise political sound bites, Chu's remarks underscore the breadth of the administration's approach to stabilizing home energy prices. While he called the cuts to LIHEAP funding "hard," he deemed additional cuts to clean energy research and technology "tragic."
That said, his answer was notably different from the explanation President Obama gave when pressed on LIHEAP fund cuts in mid February, during which he stressed that "energy prices have now gone down but the cost of the program has stayed the same."
Since then, of course, energy prices have risen, from roughly $85 per barrel of oil on February 10 to approximately $107 today. With it, the political realities have changed as well. LIHEAP funding has been part of the current spending cut discussion, with the House GOP proposing reducing funds for the program by $390.3 million from current spending levels. But in the two stopgap government funding measures that Congress has passed in the past month, LIHEAP has been spared.
"LIHEAP is still at 2010 levels. No cuts in the last few continuing resolutions," confirmed an administration official.

Popular in the Community