Ken Spitzley, a state agriculture department employee, told HuffPost that he walked to the protest at the state Capitol during a break from work and that he witnessed Crowder getting in protesters' faces.
"He was just after everybody," said the 56-year-old Spitzley, a procurement technician whose workplace is represented by the United Auto Workers. "There was no question he was there just to start a fight, to start some kind of trouble."
In an interview, Crowder said he was provoking protesters merely with his presence as a conservative and his pointed questions on right-to-work legislation. He described the assault as "brutal" and completely undeserved.
"I definitely provoked them," Crowder said. "I was asking them basic questions."
Sptizley offered one specific anecdote that Crowder disputed. According to Spitzley, Crowder had an exchange with two pro-union men wearing blue jeans, hard hats and Carhartt clothing. One of the men accused Crowder of working for Amway, the family company of Michigan businessman Dick DeVos. Crowder joked that he sells soap.
"He said, 'I sell soap. I should sell you some,'" Spitzley said, quoting Crowder.
Crowder said he never suggested the men needed soap or could use a bath. "That wasn't my intent," he said. He also said he was nonconfrontational throughout the exchange.
Spitzley said he did not witness the punching incident or the exchange leading up to it. But in Spitzley's estimation, Crowder "wasn't going to go home until he got punched."
Crowder, however, challenged that characterization. "I didn't expect to be assaulted," he said. Asked if he planned to press charges on the man who punched him, Crowder simply said to stay tuned.
Crowder, who suffered a chipped tooth in the incident, also criticized HuffPost for reporting Spitzley's version of events, arguing that it suggests the assault was somehow warranted. "I think it's misleading," he said.
In an appearance on Sean Hannity's Fox News show Tuesday night, Crowder described the punches as "completely physically unprovoked." "Apparently, I provoked them by asking them, why are they against right to work? By asking them, what about somebody in Michigan who might want to work for a company and might not want to join a union?"
"Call me a provocateur, Sean," added Crowder.
An edited video that Crowder posted of the scuffle shows a man punching Crowder repeatedly and another man grabbing him from behind after he'd walked away. The video, which due to the editing does not show what immediately preceded the punches, has become perhaps the most prevalent image of the Lansing protest, with conservatives holding it up as evidence of union thuggery and many labor activists ruing the bad publicity.
Lt. Kevin Sweeney, a spokesman for the Michigan State Police, told HuffPost that a total of three arrests were made during Tuesday's protests, although he could not say whether anyone was arrested for punching Crowder. Sweeney said police were generally pleased with the relatively few number of incidents, given the "passions" surrounding the right-to-work issue.
On Tuesday, Michigan became the 24th state with a right-to-work law. Such laws bar contracts between companies and unions that require all workers to pay union dues for bargaining on their behalf. Unions argue the laws cripple them by allowing workers to opt out of supporting a union financially even as they reap the benefits of its collective bargaining.
Spitzley said he's hardly a diehard union man. He said he joined the protest not so much out of opposition to right-to-work laws as due to displeasure at how state Republican legislators and Gov. Rick Snyder fast-tracked the referendum-proof law during a lame-duck session.
This entry has been updated with Steven Crowder's comments.
Before You Go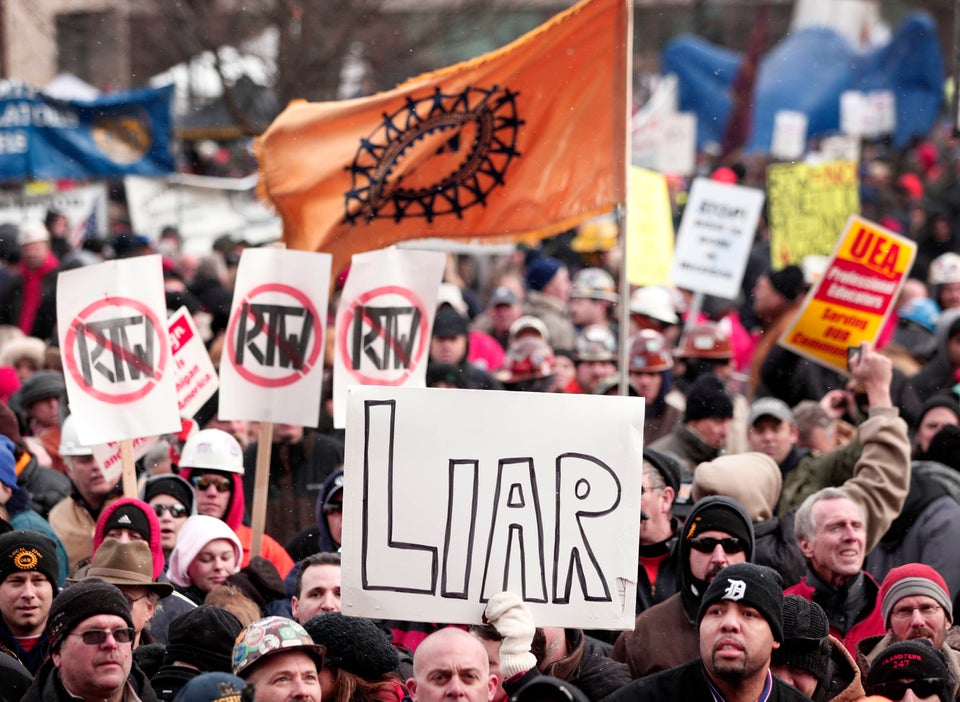 Michigan Protests Right To Work
Popular in the Community