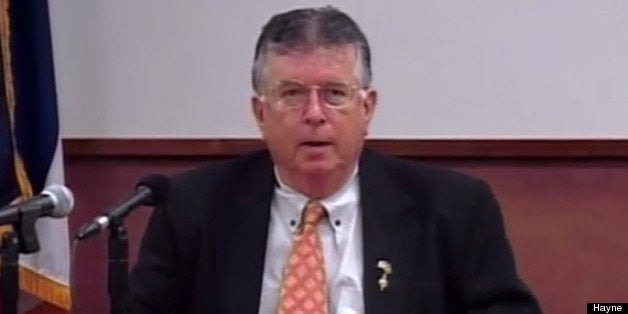 In January, I wrote a long feature on the Belzoni, Mississippi murder of Kathy Mabry, and how the 15-year-old crime casts light on the 20-year forensics scandal involving Dr. Steven Hayne and the dentist Michael West. In a new article published in the Mississippi Law Journal, several attorneys at the Mississippi Innocence Project and the Mississippi School of Law offer a detailed, heavily-footnoted chronology of the entire saga. From the introduction:
Over the last four decades, Mississippi has persisted in condoning systemic medico-legal and forensic malfeasance, and, more specifically, refused to adapt and properly accommodate contemporary forensic science in its courtrooms. The fact of the matter is that Mississippi has never, until very recently, made a good-faith effort to bring its medico-legal death investigation system into line to prohibit the failures of justice that have been its hallmark.

Even though the Mississippi Legislature abolished coroner's juries in the 1980s and created the State Medical Examiner's office to provide meaningful oversight of Mississippi's death investigation system, no demonstrative improvements occurred. In fact, it was just the opposite: During the early 1990s, the Mississippi Department of Public Safety, the administrative agency responsible for appointing a State Medical Examiner, failed to appoint a person to the position. Among the public health consequences was a medico-legal spoils system that valued pseudoscience and expedient criminal convictions over scientific validity and defendants' basic civil rights.

As a direct and entirely natural correlation, Mississippi produced a significant number--and shocking types--of wrongful convictions and perpetrated some of the most notorious forensic fraud in American legal history . . .

The pervasive impact of Mississippi's broken medico-legal system should come as no surprise. The logical consequence of a system that encourages forensic fraud is forensic fraud; and the logical consequence of forensic fraud is wrongful convictions. Empirical evidence from every jurisdiction in the United States, including Mississippi, bears this out. In a recent national study of wrongful convictions that featured forensic testimony, sixty percent of the forensic witnesses provided inaccurate information.

This Article documents for the first time the complete, tragic history of Mississippi's medico-legal system from the mid-1970s, when initial efforts were made to improve the local, coroner-based system, to the present day. Its primary purpose is to provide a comprehensive narrative through which the state might honestly come to terms on a morally acceptable basis with the attendant failures of justice that occurred as a result of the path it chose. In that way this Article also offers up the Mississippi medico-legal system as a cautionary tale, a study in what not to do. Although all of the cases, agencies, and people discussed in this Article are from Mississippi, the lessons learned from Mississippi medico-legal system's breakdown are universal.
But back to Mississippi. Tucker Carrington (director of the Mississippi Innocence Project) and other concerned attorneys, public officials, and even some law enforcement have been calling for an independent investigation of Hayne for years, now. It looks as if they may be finally getting some traction in the state legislature. From Jackson's Clarion-Ledger:
State Sen. Hob Bryan, D-Amory, chairman of the Judiciary B Committee, agrees with Carrington that something needs to be done. "Our experience with Dr. Hayne is extremely troubling, and there needs to be a look at anything he is involved in," he said. "We need to look at that."
There are some other signs of growing momentum. The Mississippi Supreme Court has always been deferential to Hayne, and for the most part has curtly dismissed appeals and post-conviction petitions that have challenged his credentials and credibility. But in April, the court not only tossed Hayne's testimony in a murder case, but did so in some unusually harsh language. The New York Times also took a look at the controversy around Hayne in an article published last January. Unfortunately, the biggest roadblock to a thorough review and investigation has come from the one state official with the most power to order one -- Attorney General Jim Hood.
The state desperately needs this investigation -- to find out who may be wrongly in prison (or still awaiting execution) because of Hayne's testimony, to learn what dangerous criminals may still be free because of those wrongful convictions, and to assess the scope and breadth of the damage Hayne's reign in Mississippi has done to the state's criminal and civil justice systems. I've been following and reporting on this story for seven years now. I can say this with confidence: If there's competent review by an impartial team of investigators, we're going to see a truly terrifying report.
Popular in the Community