The human half of photographer Steven Laxton's series, 'Human & Urban Forms,' turns the classic nude portrait on its head, usually literally. Laxton's subjects, professional dancers, assume a series of intertwined and contorted shapes, turning flesh into form. The dancers' heads are always obscured and the shade of skin and the sinuous muscle become the material of what Laxton calls "human sculpture."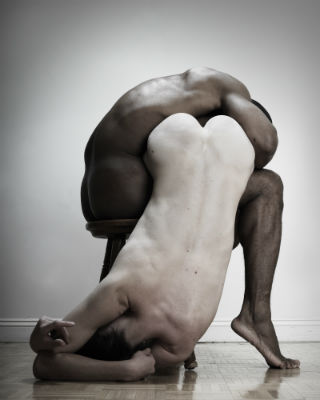 An Australian who now lives in New York, Laxton is known professionally for changing things up. His series, 'Circo El Salvador,' documenting six nomadic circus families in rural El Salvador, won him the Arnold Newman Prize for "new directions in photographic portraiture" in May. This latest series is both sensuous and disorienting: which limb is what, which is whose? Yet it's precisely this effect, transforming bodies into an otherworldly form, that can free a viewer from titillation to curiosity and appreciation.
Read on for a HuffPost Culture interview with Laxton on his inspiration for the series, and check out a selection of photos from it in the slideshow below.
What was your process for this particular series?
I am a big fan of dance, I have always drawn a lot of inspiration from dancers. I think it's such a visual feast--an amazing combination of theatre, costumes, lighting, movement and athleticism. But more than anything, grace. [Their] bodies are built like athletes that seem to effortlessly glide and mold into amazing forms, and they seem to defy nature and gravity at times. It is this aspect I wanted to focus on.
So when I met one of these amazingly talented dancers I proposed a series highlighting the sculptural aspect of their bodies and their ability to transform into seemingly impossible shapes. Over time it has become something of a creative collaboration, as the dancers know the direction and style we are going for and we continually push the boundaries each sitting.
What are some of its unifying themes?
I see the series as a form of human sculpture. We are always looking for interesting ways to mold the body into new forms. I also like the honesty and grittiness of the images. Although I have lit them, I didn't want to take your stereotypical "pretty ballerina" images. I see the dancers as athletes and artists. As artists their bodies are their canvas, so they are acutely aware of [them].
I have kept all the bumps and bruises in the images, I didn't want to retouch...and have a plasticky fake look. I like a more honest approach, there is something interesting in the contradiction--on one hand [they are] real, but then on the other their bodies are in these unreal positions. I wanted to defy what is traditionally beautiful and create a kind of awkward beauty.
How did you pose your subjects?
It' s hard to say, it's somewhat of an organic process. It evolves and is certainly a collaborative effort. The dancers are amazing and really take a joint role in the creation of these poses. I might suggest something and they will then find a way to push it further, or they will make a suggestion and I will suggest adjustments to make it more visually compelling.
They are all ballet dancers: Craig Hall, Megan LeCrone and Gina Pazcoguin. I have been lucky to work with such amazing talent. They are all unbelievably fit and are simply masters at their craft. They have been amazing collaborators and really get into what we are doing. I have a lot to work with and they make it very easy.
Does shooting nudes require a different approach than photographing other subjects?
Well I wouldn't say nudes require a different approach but the way we photograph them does. I think the awkwardness of the nudity disappears in 30 secs, and you are concentrating on the photos. I think another type of nude study would be a similar approach to a portrait. With this series however, I approached the photos like a combination of a still-life and sculpture.
These images originally appeared in Issue 8 of our new weekly iPad magazine, Huffington, in the iTunes App store. Click through the slideshow below for a (potentially NSFW) selection from the human half of Laxton's 'Human & Urban Forms' series. For more, including the urban photographs, head to Laxton's site.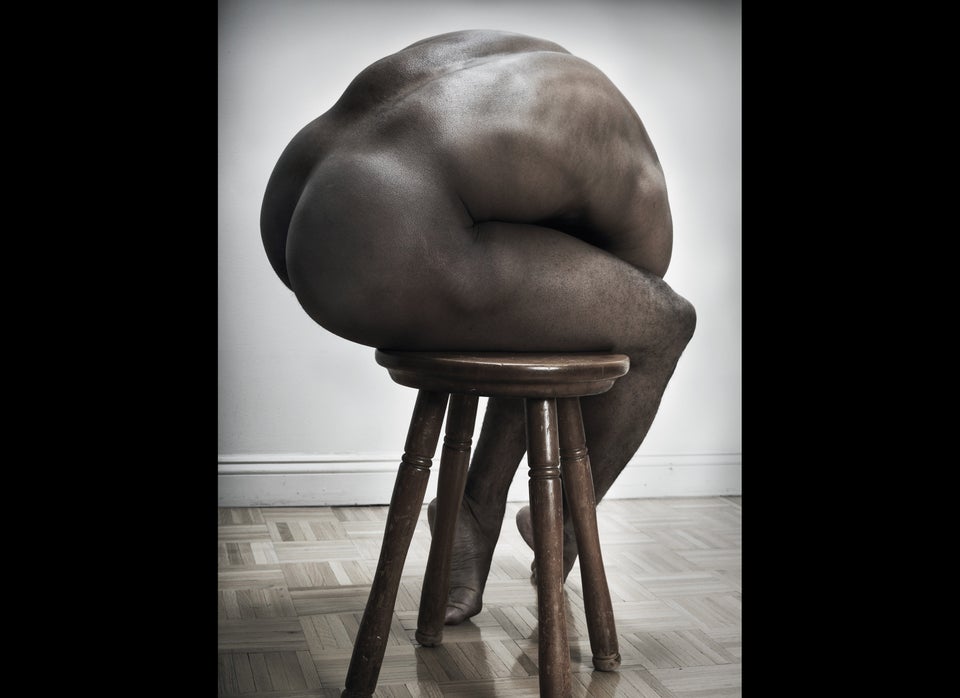 Steven Laxton 'Human & Urban Forms'