The frontrunner in Tuesday's Republican Senate primary in New Jersey is trying to turn a debate over a racially charged tweet sent by his own campaign into a battle over what he calls "politically correct nonsense." Former Bogota, N.J., Mayor Steve Lonegan told The Huffington Post that he believes the tweet, since deleted, is not an issue as he heads into the special Senate primary against physician Alieta Eck.
The tweet, which was sent on the Lonegan campaign's Twitter account last week, showcased a map of Newark with various neighborhoods identified as Latin American, African and Islamic areas. The map was jokingly dubbed "Cory Booker's foreign policy debate prep notes." Booker, the Democratic mayor of Newark, is the current frontrunner in the Senate race.
Lonegan, who has said he disapproved of the tweet, is contending nonetheless that the resulting debate will help him on Tuesday.
"It helps drive turnout," he told HuffPost. "People are sick and tired of this politically correct nonsense."
Lonegan has been attempting to turn the debate over the tweet in his favor over the last few days, even as Eck has called on him to apologize for it. Lonegan told the Bergen Record that he has a "handicap" in the race as "a white guy running in the state of New Jersey."
In a statement, Eck's campaign described the tweet as "horrifyingly racist" and questioned, "How on earth is he supposed to 'represent' a state as culturally rich and diverse as New Jersey in the Senate?"
"People should loosen up. Enough is enough with this nonsense," Lonegan said. "I am hearing 'thank you' and people should speak up about the race card."
The Senate primary, driven by the June death of Sen. Frank Lautenberg (D), marks a political turn-around for Lonegan, long one of New Jersey's most outspoken conservatives. A former three-term mayor of Democratic Bogota, an 8,100-person community in Bergen County, Lonegan lost gubernatorial primaries in 2005 and 2009. But this year, he finds himself the GOP establishment candidate, picking up support from moderate Republicans. Lonegan's emergence as the GOP frontrunner came after a series of top Republicans, including Lt. Gov. Kim Guadagno, U.S. Rep. Leonard Lance, state Senate Minority Leader Tom Kean Jr. and Assembly Minority Leader Jon Bramnick, declined to run.
For seven years prior to entering the Senate race, Lonegan headed the New Jersey chapter of Americans for Prosperity, a group backed by the controversial Koch brothers. He told HuffPost that the Kochs did not donate to the New Jersey chapter, which did his own fundraising. Regardless of funding, the Americans for Prosperity post allowed Lonegan to travel the state building up a following among Republicans, particularly those with tea party leanings.
Lonegan is being challenged by Eck, a physician who runs a health care clinic in Somerset County. Eck told HuffPost that she entered the Senate race over Obamacare, which she said needs to be repealed. She is offering her own health plan, which involves having patients pay cash for routine medical procedures, raising insurance deductibles and increasing charity health programs for the poor. As part of the charity element, she would have doctors volunteer their time to treat patients.
"It is an overreach of the federal government into health care," Eck said of Obamacare. "The federal government should not be involved in health care. It is the doctor-patient relationship."
While Lonegan leads Eck in the polls, Eck has announced support from conservative groups in recent days. The winner of the Republican primary will likely face Booker, who holds a commanding lead in Democratic primary polls. Surveys also show Booker easily leading Lonegan in the Oct. 16 general election.
Lonegan acknowledged Booker's current lead, but said that he will catch up once the voters learn the truth about the popular Newark mayor's record.
"Booker has a whole lot of name ID," Lonegan said. "That is all shallow and Hollywood. The Booker record in Newark is a failure."
UPDATE: 6:15 p.m. -- New Jersey Gov. Chris Christie (R) weighed in on the controversy, calling the tweet "inflammatory and inappropriate" and saying that Lonegan did the right thing by taking it down. Christie added that he would have gone a step further and fired the aide who posted the tweet. Lonegan has said he won't fire the 21-year-old.
"From my perspective, I would have fired the guy who did this," Christie said during a Monday news conference in Trenton. "Steve chose not to. I don't care if he is 21 years old or what his position is. That tweet shows a complete lack of judgment."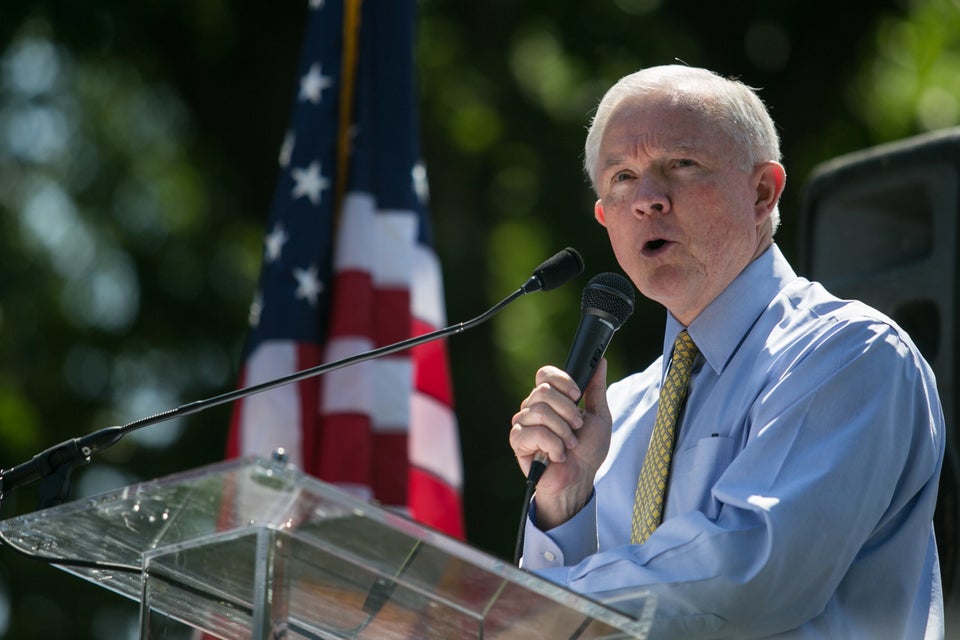 Senate Seats Up For Grabs In 2014