WASHINGTON ― Treasury Secretary Steven Mnuchin declined to detail President Donald Trump's tax plan at a conference on Wednesday, but vowed the administration would secure "the biggest tax cut and the largest tax reform in the history of our country."
At an event organized by The Hill, Mnuchin said the Trump administration has been meeting regularly with House Speaker Paul Ryan (R-Wis.) and House Ways and Means Committee Chairman Kevin Brady (R-Texas) and will present a set of principles for tax policy later on Wednesday. He confirmed that Trump would propose cutting corporate taxes from the current rate of 35 percent to 15 percent and said the administration wanted to cut taxes for individuals, as well. Mnuchin did not present any plans to raise additional federal revenues. The Treasury secretary said economic growth of 3 percent would make up for any shortfall in tax revenue created by whatever the ultimate tax cuts may be.
Mnuchin said the growth in federal debt under former President Barack Obama was "highly concerning" and told attendees that infrastructure spending will not be part of the tax talks between the administration and Congress.
The Treasury secretary said the 15 percent business tax rate would apply to small firms and so-called "pass-through" companies, but insisted that the ultimate policy would not serve as a "loophole" for rich people to lower their tax rate. During the presidential campaign, Trump was dogged by questions surrounding his 15 percent business tax rate, which conflicted with his pledge to raise taxes on hedge funds and private equity firms. Many hedge funds are organized as pass-through corporations, as are many law firms. Many sources of income for the wealthy, such as book royalties, are often paid to pass-through corporations.
"The president is determined that we will have tax reform," Mnuchin said. "We like hard challenges. That's why the president's here … this is the center and the core of his economic plan."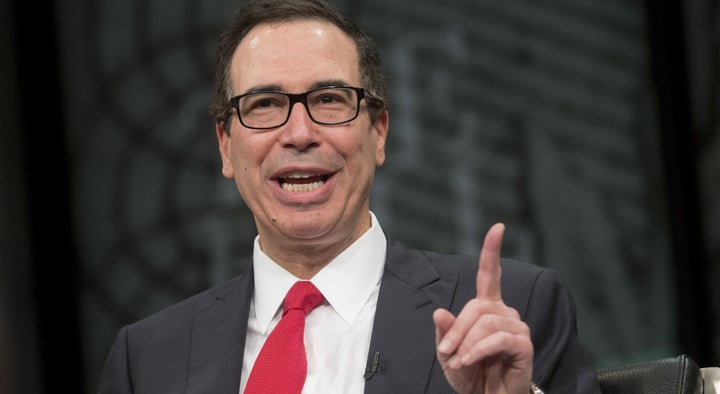 Mnuchin said the Trump administration remains unenthusiastic about a Ryan-Brady plan to overhaul the tax code by replacing many current taxes with a so-called "border adjustment tax" on goods imported into the country.
"We don't think it works in its current form," Mnuchin said, adding that the administration would "continue to have discussions" with House leaders on border tax "revisions that we will consider."
Mnuchin said the ultimate tax package will depend on further negotiations with Republicans in Congress. He declined to specify a legislative timeline for the deal.
Jared Bernstein, former chief economist to Vice President Joe Biden and a senior fellow at the Center on Budget and Policy Priorities think tank, threw cold water on Mnuchin's comments during a panel following the Treasury secretary's appearance. "This isn't tax reform we're talking about," Bernstein said. "This is just tax cuts."
Maya MacGuineas, an austerity-minded fiscal hawk who runs the Committee for a Responsible Federal Budget think tank, said Mnuchin was presenting "magical" numbers that would balloon the federal debt.
REAL LIFE. REAL NEWS. REAL VOICES.
Help us tell more of the stories that matter from voices that too often remain unheard.
BEFORE YOU GO
PHOTO GALLERY
Donald Trump Over The Years