Okay, I'm speaking with the fellow who makes the coolest shows in the world. The occasion is Sherlocked: The Official Sherlock Convention, U.S. debut this weekend, 26-28 May, in L.A. The fellow, of course, is Sherlock writer-producer-co-creator Steven Moffat.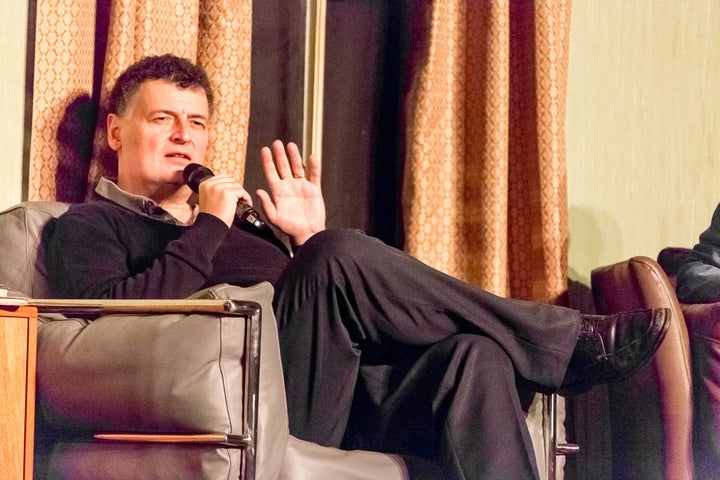 Hosted by genre author extraordinaire Tony Lee, the Sherlocked convention brings cosplay, screenings, the set of 221B Baker Street, and special guests: Sherlock co-creator Mark Gatiss (Mycroft), Andrew Scott (Moriarty), Una Stubbs (Mrs. Hudson), Louis Moffat (young Sherlock Holmes), plus series producer Sue Vertue, and her husband, Mr. Moffat, who responded thusly to my investigation:
Gregory: You're a Scot; Mr. Doyle was a Scot (by way of Ireland) -- from boyhood on, did you ever dream you'd be producing a Sherlock Holmes series?
Steven: Both myself and Mark [Gatiss] had longed to do that, but didn't ever think it would actually happen -- neither did I ever think it would be such a huge success. If you'd asked me ten years ago, I probably still wouldn't have thought it would happen! It's a neverending thrill, that.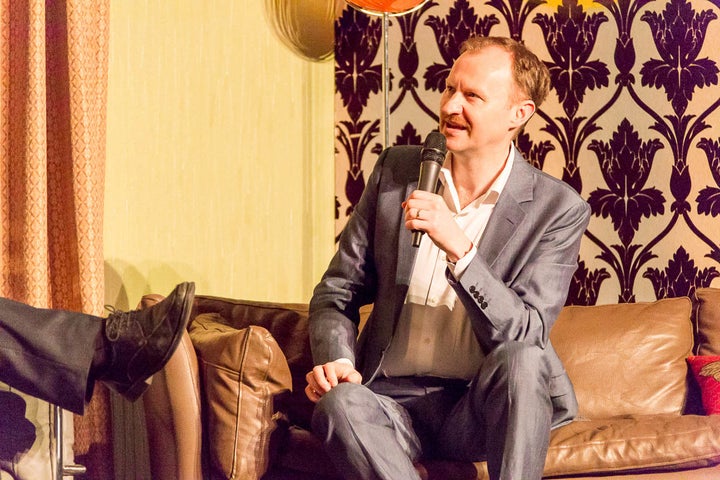 Gregory: Lovely. It's said that you and Mark devised this modern Holmes on train rides. Could you please share a little bit about that process?
Steven: In those days we were both writing on Doctor Who -- before I took Doctor Who over -- and we were just chatting on the train about other enthusiasms. We couldn't talk about Doctor Who because people would listen in, so we started talking about Sherlock Holmes -- and admitted guiltily to each other that amongst our favorite Sherlock Holmes were the updated Basil Rathbone ones, with Basil Rathbone and Nigel Bruce fighting the Nazis. We agreed that one day somebody would update it again, and what a shame it wasn't us! I mentioned the conversation to my wife, Sue [Vertue], and she said, 'Well, why don't you guys just do it?'
Gregory: Brilliant. Australian director Paul Cox said, 'If you want to do something well, do it as a hobby.' I think you also said that Sherlock was a hobby, wherein everybody got on board.
Steven: Whether you're writing or reading, it's a recreation! You should never forget that you do this out of passion and enthusiasm. It's done for love. The money is an extremely attractive bonus.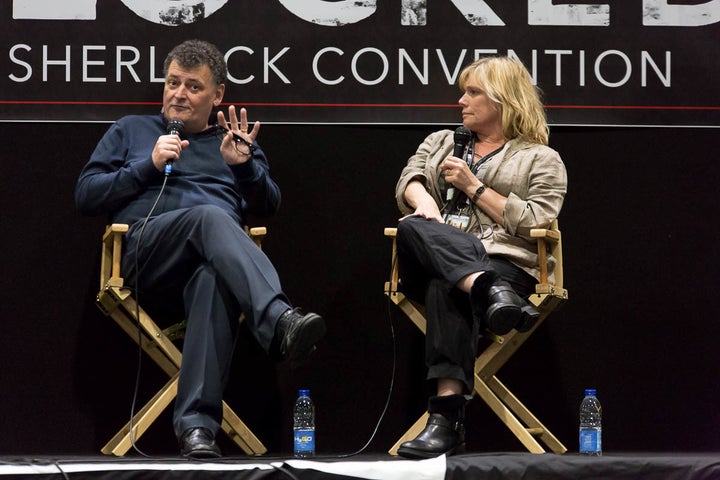 Gregory: What were your choices in making Holmes and Watson relevant today?
Steven: That wasn't much of an effort, because those stories are still popular in their Victorian form. People have never fallen out of love with Sherlock Holmes. All we did was modernize them: place them in our world, the way they would be now. We didn't reinvent the wheel, we just sort of spruced it up a bit.
Gregory: Although all the episodes are sensational, my favorite is The Abominable Bride special. Was that a difficult pitch?
Steven: It was a fairly difficult pitch. Because obviously we'd just persuaded everybody -- more or less, in the world! (laughs) -- that really, Sherlock Holmes should be set in the present day. And then what we announced was: let's do one back in Victorian times -- and then pull the rug and say, 'Naw, it's still our show! It's a drug-addled dream of Sherlock Holmes!' We were very, very pleased about it. I love that film!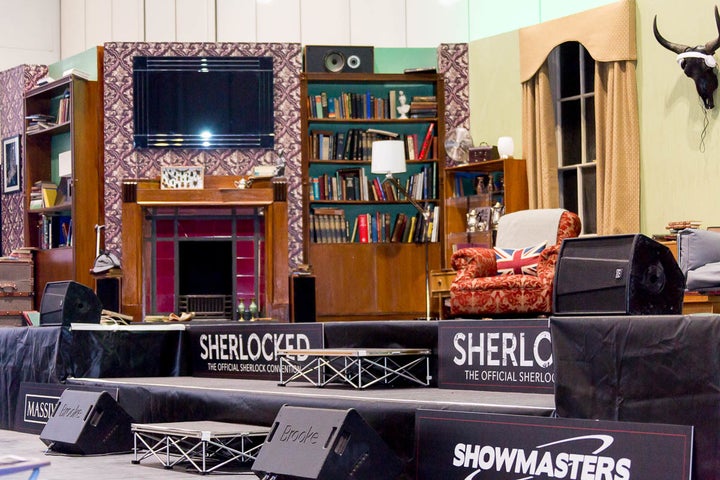 Gregory: Fans are obsessed with this series, and you're about to be immersed in the first U.S. Sherlock convention. You've been to San Diego Comic Con, so do you find that there's a distinction between U.S. and U.K. fans?
Steven: To be fair, no two fans are alike. They're all different people. (laughs) But it's not a massive difference. It's a rather joyous thing -- because the main thing about people who go to conventions: it's not about seeing the stars, or hearing the interviews, or seeing the props. Really, it's about all the people they meet, and all the wee love affairs they have, and the excitement of sharing an enthusiasm with other people who think the same way.
Gregory: It looks like you'll be bringing your crew.
Steven: It's like a little reunion for us! That's quite nice, because we hardly ever make Sherlock, and so it's really lovely when we all get together again -- talk about the old days, hopefully the new days. It's nice to think that you've done something well enough that you get this sort of level of very flattering acclaim. It doesn't go to your head -- because you're sane! -- but it does feel nice.
Gregory: Good to know you're predicting sanity on the bill.
Steven: (kindly laughs) Yeah.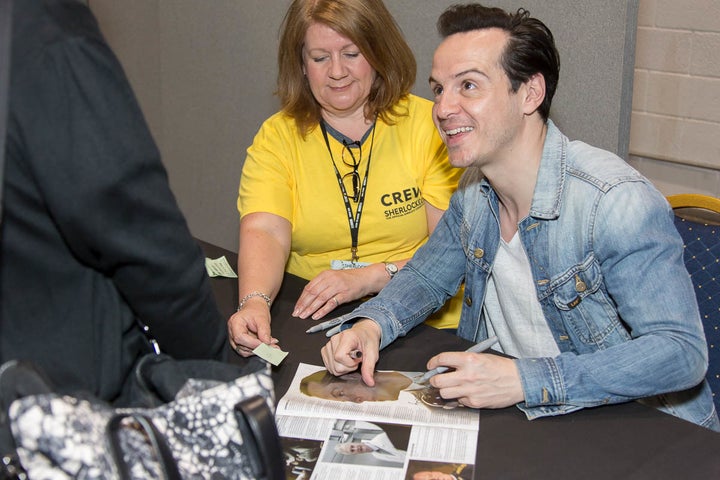 Gregory: Gushing about Doctor Who -- you, and Robert Holmes: my very favorite Doctor Who writers, of all time. And working with director Rachel Talalay: she's brilliant! [Notably the first woman to direct Sherlock: "The Six Thatchers" episode.] How did you two form such a terrific team?
Steven: We checked up on Rachel several times on Doctor Who, because she's got phenomenal experience in genre and action. Frankly, making big-budget spectaculars on no money at all is what we need, and Rachel's got such a deep background, and such great ability at that! I'm working with her right now, actually: we're just finishing up on the finale episodes, and planning the Christmas one, which she's also directing -- which is my very last one.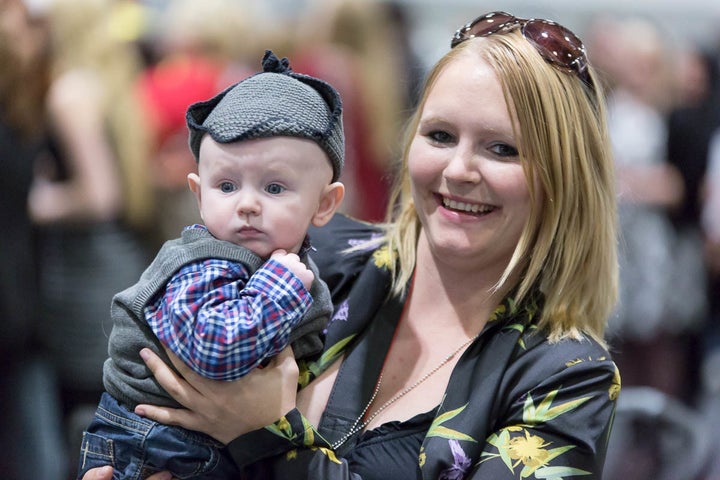 Gregory: Excellent! Back to Sherlock, can you tease anything? Season Five?
Steven: Honestly there is nothing to tease, and I'm not holding out on you. I've been flat-out on my last days of Doctor Who, since before Sherlock ended -- and Mark is off doing other projects, including an episode of Doctor Who -- so the two of us have not sat down and had the conversation about what we would do with another series of Sherlock. (laughs) So I just don't know. He's been very busy, and I've been very busy, so hopefully I'll get to see him soon!
And that's this weekend. Elementary!
Popular in the Community