A professor who left his position at another school to join the University of Illinois at Urbana-Champaign -- only to see his job offer abruptly retracted as a result of social media posts criticizing Israel's role in the Gaza conflict -- has publicly addressed the controversy for the first time.
At a Tuesday press conference on the UIUC campus, Steven Salaita detailed the personal hardships his job offer's termination -- just two weeks before his proposed start date -- caused for him and his family. He also chided the the school's chancellor and board of trustees for setting what he calls a "perilous standard."
"I reiterate the demand that the University recognize the importance of respecting the faculty's hiring decision and reinstate me," he said in a prepared statement obtained by The Huffington Post. "It is my sincere hope that I can -- as a member of this academic institution -- engage with the entire University community in a constructive conversation about the substance of my viewpoints on Palestinian human rights and about the values of academic freedom."
Prior to the press conference, a crowd of about 150 protesters gathered in support of Salaita, as part of a planned class walkout. A speaker at the rally called for the resignation of UIUC Chancellor Phyllis Wise.
(Story continues below.)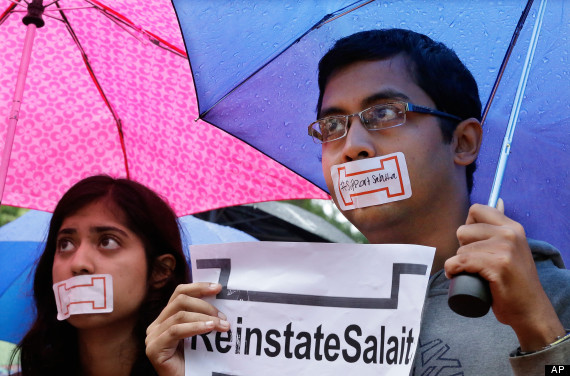 Students participate in a protest in support of Salaita on campus Tuesday, Sept. 9, 2014, in Champaign, Illinois. (AP Photo/Seth Perlman)
Salaita, previously a tenured associate professor in the English Department at Virginia Tech, said in his released statement that he was recruited last year to join the UIUC's American Indian Studies program. He also said he accepted the offer in October 2013, and that he and his wife both resigned from their positions at Virginia Tech and "got rid of" their home in Virginia in preparation for the new job in Illinois.
"The University has violated the Constitution by terminating Professor Salaita's appointment based on the content of his speech," Maria LaHood, senior attorney with the Center for Constitutional Rights, which is representing Salaita, said in a statement. "It has also sent a chilling message to faculty and students everywhere that the First Amendment and basic principles of academic freedom will be ignored when it comes to speech that is controversial or critical of the Israeli government."
Read the full text of the statement Salaita delivered at the press conference Tuesday, below:
Popular in the Community