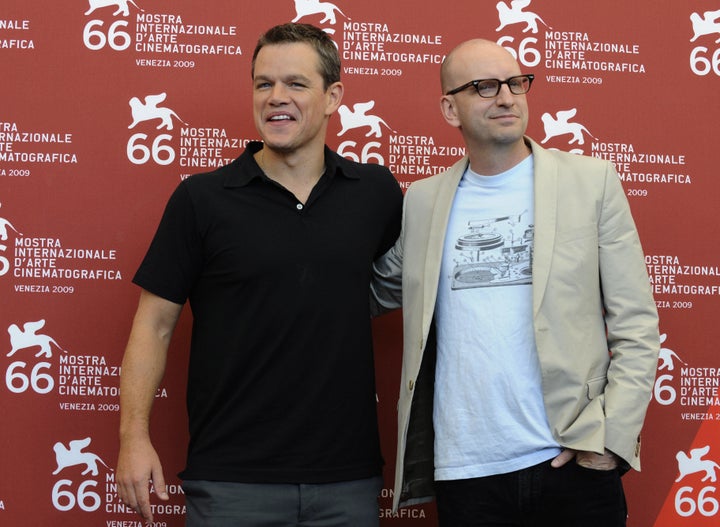 Perhaps Steven Soderbergh is playing us all. Perhaps, the inventive Oscar-winning director has just stumbled upon his next filmmaking form, a new meta-genre in which the halted status of his film career is the subject of a secret next film, a sort of thinking man's Joaquin Phoenix retirement saga.
Or, he could just be kind of indecisive.
The latest twist in what may or may not be the final chapter of his film career came on Sunday, when he told reporters at the Venice Film Festival that "It's less dramatic that it sounds - it's just a sabbatical" over to painting.
"I feel I need to recalibrate, so I can discover something new," he continued (via the BBC), thereby promising the possibility of more films in the future; Matt Damon told the Los Angeles Times last January that his frequent collaborator would call it a career after three more films, which include the male stripper film "Magic Mike," an adaptation of the TV show "The Man From U.N.C.L.E.," and a long-planned Liberace biopic.
Soderbergh, who will this week release his star-studded viral pandemic thriller, "Contagion," into the public airwaves, has vacillated for the past few years over a career shift that would see him move from the big screen to the canvas. After telling Esquire in 2009, when he was 45 years old, that he planned on ending his movie career by the age of 51, it seemed all systems go for a 2014 retreat.
Soderbergh, despite his pronouncements, first denied Damon's comments at July's Comic-Con, calling him as "discreet as a 14-year old girl," about a drunk conversation the pair had about his future. Just last week, though, it appeared Soderbergh was at least semi-confirming his retirement, telling the New York Times that he wanted to try a new art form, but would run back to film if he was unsuccessful at making the move.
Popular in the Community