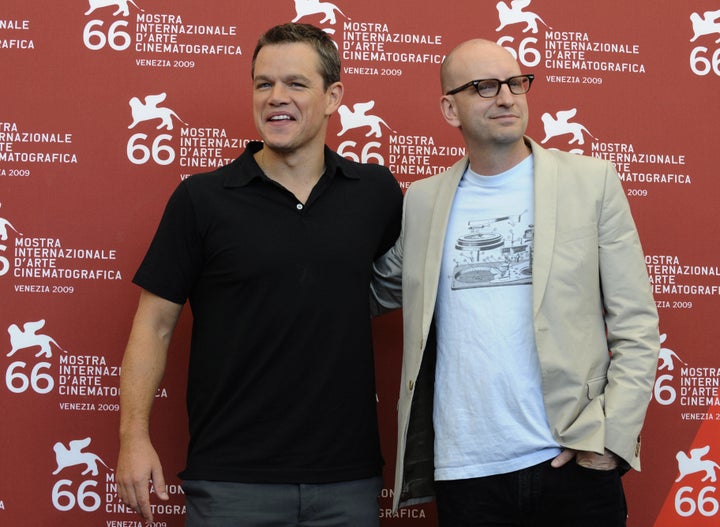 With the story line beginning to resemble his multi-strained masterpieces, Oscar-winning director Steven Soderbergh, in a roundabout, hedging way, confirmed a rampant rumor that he once denied.
Speaking with The New York Times about his upcoming film, the virus disaster story, "Contagion," Soderbergh acknowledged that he was planning on retiring from Hollywood and focusing on a different art form.
"I'm interested in exploring another art form while I have the time and ability to do so," he told the paper, speaking from his painting studio. "I'll be the first person to say if I can't be any good at it and run out of money I'll be back making another 'Ocean's' movie."
Soderbergh directed the action-heist film, "Oceans 11," and its two sequels. In fact, it was one of the stars of that trilogy -- and the lead in "Contagion," that first made mention of the director's longterm plans.
"He wants to paint and he says he's still young enough to have another career," Matt Damon told the Los Angeles Times in January. "He's kind of exhausted with everything that interested him in terms of form. He's not interested in telling stories. Cinema interested him in terms of form and that's it. He says, 'If I see another over-the-shoulder shot, I'm going to blow my brains out.'"
Soderbergh hinted at retirement back in a 2009 interview with Esquire, saying, "I'm 45 now. When I turn 51, that'll be 25 years. And that's a lot of time to do one thing. And it'll be, like, 30 movies. And that's enough. I don't want to have that falloff. I want to go out with 'Abbey Road.'"
However, just last month at Comic-Con, the director laughed off what Damon had said.
"Matt Damon is apparently as discreet as a 14-year-old girl," he said (via Movieline). "I had this drunk conversation with him while shooting 'Contagion' and four days later, I read about it in the paper. And he read it verbatim. [...] Nobody in this economy wants to hear about someone quitting a good job. That kind of got blown out of proportion. And that's Matt's fault."
Retiring or not, Soderbergh has a few films left to make. He is now in the process of making "Magic Mike," the male stripper movie based on the experiences of a young, pre-fame Channing Tatum; a film adaptation of the 60s show "The Man From U.N.C.L.E.," a project from which George Clooney just pulled out; and a biopic about Liberace that is due to star Michael Douglas and Damon.
Soderbergh won the Oscar for Best Director for "Traffic," and earned a nod in the same category for the Julia Roberts-starring "Erin Brockovich."
REAL LIFE. REAL NEWS. REAL VOICES.
Help us tell more of the stories that matter from voices that too often remain unheard.