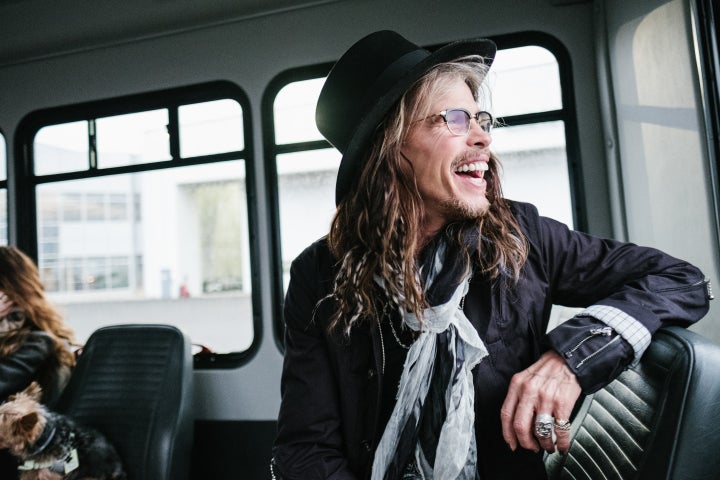 "If you look at it and figure out things in life, you realize it — whether it's a divorce, arguments you got in with your mother, whether you were thrown out of the house or whatever ― things in your life," he told HuffPost.
Yes, Tyler has been divorced twice. And he's had plenty of disagreements, including public spats with his fellow members of Aerosmith.
"You really don't realize it, unless you're an honest person or in a 12-step program or have been around and have been married and lost love a bunch of times. Most people don't get a chance to turn around and look where they came from," he said, almost with a sense of relief that he's had the opportunity for reflection. Then he stopped for a moment and said, "Most people would like to be certain and miserable than take a risk and be happy."
The risks Tyler took throughout his career have afforded him some massive successes, including platinum albums, Grammy wins, hit singles and a spot in the Rock & Roll Hall of Fame. And he shows no signs of slowing down anytime soon.
This month Aerosmith played a roaring set at the New Orleans Jazz & Heritage Festival, prompting the city's Times-Picayune to call him "fabulous" and The Boston Globe, the group's hometown paper, to describe the band as a "well-oiled machine." And this week sees the release of the new documentary "Steven Tyler: Out on a Limb," which chronicles his first solo venture, the 2016 country album "We're All Somebody From Somewhere." For it, he took a couple more risks: He tackled a different genre and teamed with a batch of country songwriters.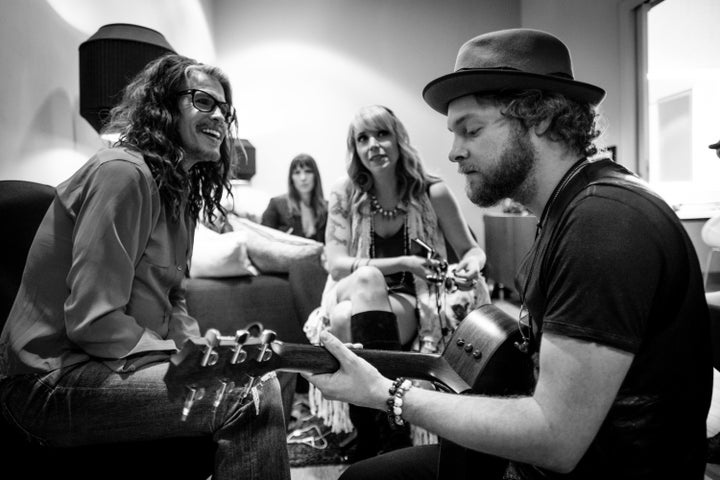 "I had my fears whether I could write with these people I didn't know," Tyler said, looking back at his time composing country songs in Nashville. "I've learned the good graces of manifesting. I've sat in the room with people who have said, 'We are going to write a hit song today all together in this room. We are going to stay in here until we get the song and we can't stand each other's smell' … But then you walk out with something real good. And when you do that a couple of times, you go, 'Hell, has it always been so easy?' No, of course it's not. Songwriting isn't."
In the 1970s, his songwriting skills helped produce hits like "Dream On," "Walk This Way" and "Sweet Emotion." Years later, when the 1986 remake of "Walk This Way" with hip-hop group Run DMC became a worldwide hit, it proved yet another risk worth taking.
"Look, a bunch of fucking street guys with huge cred took 'Walk This Fucking Way' and turned it into a monumental, earth-shattering, break down the walls between white and black ― there was no fucking huge press party around that. It was real," Tyler said, seeming nostalgic for a time when producing music didn't involve so much buildup before release.
That "Walk This Way" rendition thrust Aerosmith even further into the spotlight. Many other hits followed, including "Love in an Elevator," "Angel," "Janie's Got a Gun," "Crazy" and "I Don't Want to Miss a Thing."
For Tyler, songwriting is often a collaborative effort, such as with Aerosmith's Joe Perry, Brad Whitford, Todd Hamilton and Joey Kramer. Outside writers have played a role too. Take the band's 1993 hit song "Cryin'."
"I wrote 'Cryin' with a fabulous guy, Taylor Rhodes. We wrote that song in about two days. I threw in the guitar, which made it an Aerosmith-riffy heavy kind of thing," Tyler recalled.
Although Aerosmith failed to score many hits in the 2000s, Tyler managed to place himself in the spotlight once again, debuting as a judge on "American Idol" in 2011. Looking back, he said he's grateful for the opportunity to sit alongside fellow judges Jennifer Lopez and Randy Jackson.
"I said to them before I was on it … 'If you want personality, I'm your guy.' I never thought it would get back to where it was from the very, very beginning and when we were on it," he said. "I thought our two years were great. We broke amazing records. We had 27 million people watching us at night. After I got into an argument with my girlfriend and got three hours' sleep, I would do [the show]. And then after that, I'd go to work with my band on [the 2012 album] 'Music From Another Dimension.' By doing 'American Idol,' it was really good for the band, and the money was good. And I got to sit next to J.Lo. "
Tyler, who turned 70 in March, celebrated the milestone in Maui with his partner, Aimee Preston, alongside family and friends, including Stevie Nicks and Mick Fleetwood.
"I feel like I've lived a couple of lifetimes with the wonderful shit that's come my way."
"I didn't even know what that means. When people started talking about 70, my kid Chelsea said, 'But Dad, it's a big one. You gotta be here.' And I said, 'What? I just didn't think of it as a large year or big. I never thought of it like that. I actually said to someone a couple of weeks ago, 'I feel like I've lived a couple of lifetimes with the wonderful shit that's come my way,'" Tyler said.
Even after all these years, he seems to marvel at his life.
"I get to be in Aerosmith," he said.
This summer he will turn his attention to his solo work, with a tour kicking off in June. He's also planning something with Aerosmith but kept mum on what that will entail.
"Everything we do is shrouded in secrecy and a big wow. But we're doing something huge," Tyler said coyly. "I can't tell you, but it's going to be big and wonderful, and the band loves it."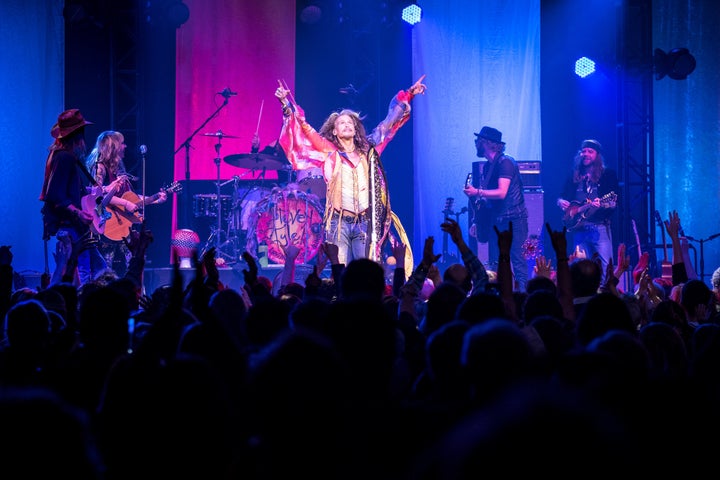 Through it all, Tyler continues to work on himself and said he's in a place now where he can do what he loves. But that doesn't mean the journey has been easy.
"Along with it comes a lot of hate and anger. I survived the music business. I survived drug addiction," he added. "So there's a lot of stuff in my life that I see what the problem is. I point it out, and sometimes it's not so fun being around me."
Performing for crowds is when Tyler seems to still feel most alive.
"I get to go onstage and relive songs I wrote when I was 21. 'Dream On,' when I sing it onstage, I'm literally in a time machine right there and redoing what I did 48 years ago," he said. There's all kind of stuff I can complain about. But for the most part, when I get to have sex with my audience, it's the best."
Even if Tyler is his own worst enemy, it seems to have paid off.
"Life's real good," he said.
"Steven Tyler: Out on a Limb" is available now on streaming devices, including Amazon, Google Play and YouTube.
Popular in the Community