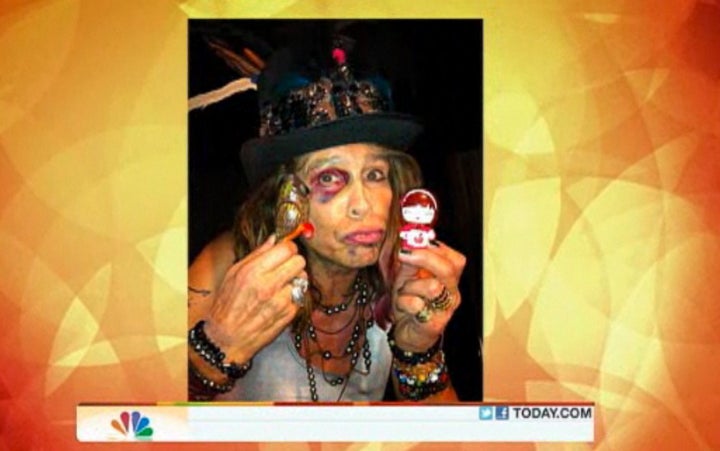 Ladies and gents: Steven Tyler is just fine. The 63-year-old Aerosmith performer phoned into the "Today Show" with Matt Lauer to explain his ugly fall in the shower on Tuesday while on tour in South America. Speaking from Buenos Aires, Tyler was energetic and good-humored, cracking jokes about his stomach sickness that spurred the fall before more seriously refuting claims that he had relapsed back into alcohol.
"It was the second show in South America and it just so happened that I got that -- what's it called when you eat something -- Montezuma's revenge. I took a walk with the Incas for 48 hours. I went in looking like Baryshnikov and walked out looking like Leon Spinks," Tyler told Lauer.

After his manager called the American Embassy in Paraguay, the music legend was shipped off to the hospital, where he received four stitches for his injured right eye. "It was like one-stop shopping. They stitched up my eye, the did a little plastic surgery, and they fixed my tooth -- all in one fell swoop."
Responding to those who speculated that he might have relapsed back into drinking, Tyler was frank but firm in denying intoxication as the reason for his fall.
"Being in the program I'm in, it's something we have to accept. I went public with my problems only to address them straight on. People thinking that is natural and normal. We flew straight on from Paraguay after that incident and we're in Argentina for two hours, and if anybody knew anybody that used substances, they wouldn't be up the hour after having a talk with Matt Lauer and the rest of America."
Calling all HuffPost superfans!
Sign up for membership to become a founding member and help shape HuffPost's next chapter