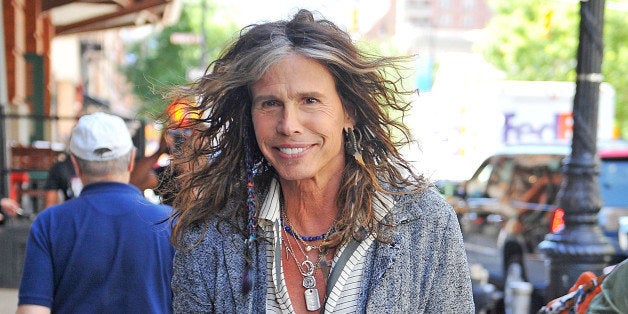 Type "Steven Tyler" into the search window on Rolling Stone's web site, and you'll see that ink has been spilled for the Aerosmith singer well over a hundred times through the years. But the story that ran on April 1 was different, mainly because it had readers wondering who was getting fooled: them, for believing that Tyler is really planning to release a country-music album, or the singer himself, for believing that he can actually pull it off.
Turns out, the news was no joke -- Tyler's long-planned foray into country is apparently coming to fruition. The singer is excited; some longtime Aersomith fans, however, are not, at least based on the comments they left below the article. "Sign of the apocalypse," one wrote; another called the plan "lame and transparent."
Luckily for Tyler, though, contributors to the magazine's comments section are probably not hard-core fans of country music, a genre that steadfastly respects its elder statesman. Unlike their pop-music counterparts, country acts aren't put out to pasture once they turn 35; they are forever celebrated as legends and revered by the musicians they influenced. So if there's a genre for Tyler to cross over into, he's chosen the right one.
While rock fans often seem to feel betrayed when their heroes want to try something new, country listeners tend to accept those who want to take a taste...initially, at least. In the long term, country crossovers have met with mixed success, and while Tyler will probably do pretty well -- after all, hard living, resiliency and bravado are all but prerequisites for any of the genre's male performers over age 40 -- not everyone has. Here are five men and women who made names for themselves elsewhere in the music business before dipping their toes into country-music waters.
Kid Rock. At the end of the 1990s, Kid Rock was an aspiring DJ and rapper with legitimate rock-music chops who hit the big time after being booked to entertain the crowd outside an open MTV VJ audition in New York. Nearly two decades later, the "kid" is all grown, and has long since traded in his turntables, track suits and blunts for acoustic guitars, plaid shirts and wheat sprigs. Thanks to "Picture," his massively successful duet with Sheryl Crow (who herself possesses shaky-at-best country credentials), Kid Rock quickly spring-boarded high into the country-music hierarchy, and in the years since has earned a slew of country-music award nominations, including taking home a CMA trophy for 2008's "All Summer Long."
Darius Rucker. When the soft-rock boom that replaced grunge in the mid-1990s had faded, and groups like the Gin Blossoms and Counting Crows had seen their fans grow weary of tambourines and Hammond organs, Hootie & the Blowfish saw their own popularity float belly-up to the surface. Singer Darius Rucker ventured on a solo career, releasing an awkward R&B album before redefining himself as a country singer. Our first glimpse of the South Carolina native as a country artist was in a Burger King commercial, when he donned a purple cowboy suit and hawked a chicken sandwich, but in the decade to follow would eventually go on to country-music acclaim, becoming the first African-American solo performer to top the country charts in nearly 20 years. This summer, after years touring as an opening act for other country performers, Rucker will finally headline his own amphitheater tour.
Jewel. It's not unheard of for female country acts to outgrow their cowgirl boots and move on to bigger stages (nice knowing you, Taylor Swift), but women who leave other genres behind and head to Nashville are few and far between. Jewel has never been afraid of taking risks, though, and in 2008 and 2010 released a pair of country albums that actually sold fairly well. The singer seemed to embrace not only the country-music genre, but also its very lifestyle, even moving to Texas with her then-husband, champion bull rider Ty Murray. While she has maintained some minimal presence in country music -- she starred as June Carter Cash in a 2013 biopic for the Lifetime network, for instance -- Jewel has by now all but walked away from the industry altogether. As she explained in a December blog: "My job and my profit center have shifted away from music because music no longer makes money." Ouch. If Jewel is hoping to mount a comeback someday, she might want to try another genre: Country fans take their music seriously, and if you're just in it for the money, you'd might as well not be in it at all.
Aaron Lewis. The Staind singer cut his teeth in the late-'90s nu-metal scene that made acts like Korn, Limp Bizkit and, yes, Kid Rock stars, but later decided to switch gears and explore life as a country singer. Lewis's formidable baritone and no-nonsense approach to his music put him in line for a promising career, but despite being the voice behind huge hits like "It's Been Awhile" and "Outside," Lewis is still playing relatively small venues and is not a major presence on country radio. Audiences may eventually be more receptive...though forgetting the lyrics during a World Series national-anthem performance probably didn't sit well with country fans, who probably also listened to his debut LP and wondered why a guy from Massachusetts suddenly had a Southern accent.
David Lee Roth. The Van Halen front man is everything that country music is not: flashy, self-promoting, shameless. But that didn't stop him from singing a pair of songs on a bluegrass tribute to Van Halen in 2006. Unlike Lewis, Roth made no attempt to add a twang to his voice, and performed the reborn songs with a bluegrass band on national television, all while mugging for the camera...just the way that David Lee Roth would. Roth's foray into the periphery of country music may have been short-lived, but it happened.
As Tyler prepares to start a new job at age 67, he would be wise to follow Roth's lead and just be himself: No fake accents, no trying to pretend to be southern, no exploiting country music as a way to make money. Country fans may not be hip to everyone who wants in, but they will open the door for a dude who's authentic. Even if that dude looks like a lady.
Calling all HuffPost superfans!
Sign up for membership to become a founding member and help shape HuffPost's next chapter