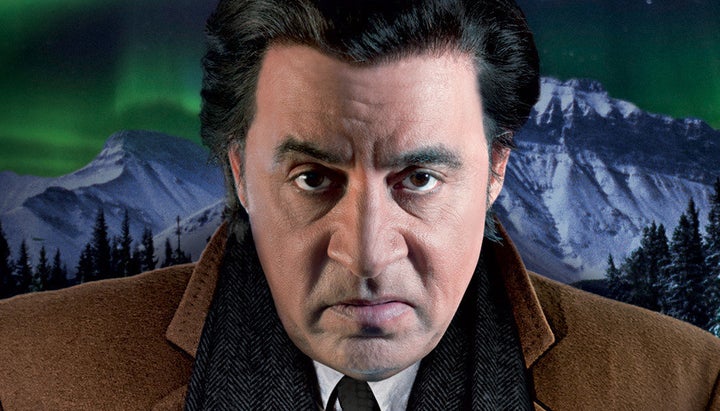 Van Zandt plays Frank Tagliano (a.k.a. Giovanni Henriksen, a.k.a "Johnny"), a New York City gangster who is relocated to Lillehammer, Norway, after testifying against a mobster. To call this a fish-out-of-water situation is an understatement -- mob culture and Scandinavian culture could not be further apart -- and Van Zandt nails the role with a perfect mix of comedy and brusque confidence.
Van Zandt is also a co-producer of the series and is in charge of the show's soundtrack. On his recent press tour in Toronto, we caught up with the actor and musician to talk about "Lilyhammer," and almost immediately discovered that he's nothing like his dour, serious characters. He was laughing, smiling and, dare we say it, jovial for the duration of the interview.
I think people need to know that your "TV face" isn't your real face.
Well, yeah. I don't know how actors play characters who look exactly like themselves. I have enormous respect for that. [Laughs] I don't get it. I need to see someone else when I look in the mirror. Originally, with "The Sopranos," I wanted everything to be different. I didn't want anybody looking at "The Sopranos" to say, "Hey, I saw you play [with Bruce Springsteen] in Cleveland!" I didn't want that distraction to take away from the show or the character.
I didn't expect this show to be so funny. Stevie on snowshoes, Stevie in a funny hat, Stevie finding a lamb's head at the end of his driveway ...
[Laughs] We wanted to have fun with it, but we also tried to not make it too funny. I didn't want it to be a farce, I really didn't. I wanted the humor to come from the circumstance and the characters. But yes, we indulged, especially in that first episode. It's particularly Norwegian in the first episode, as you'll see. In the second episode, I open a club, my clothes arrive from New York, things start settling down.
The title of the show is misspelled -- it's actually Lillehammer, Norway. Why is it spelled that way?
The idea was to Americanize it as much as possible. Come to think of it, I don't know how we spelled it during the 1994 Olympics. Did we make that mistake? Anyway ... Americans are pretty stupid, and we need to have things Americanized whenever possible, brought down to its lowest common denominator. [Laughs]
Whose brainchild was this?
This team of husband-and-wife writers, Anne Bjørnstad and Eilif Skodvin -- they thought of it and found me. I thought it was a terrific idea. I wasn't planning on playing a gangster again, but it's too good. I thought, at that moment, "What is your priority? Do you want people to think what a versatile actor you are? Do you never want to play the same role twice?" I realized, for me, I didn't really care. What I really care about is the work is good and the script is good.
Did you learn any of the Norwegian language? Your character seems to get the hang of it.
It's tough, I tell you. Luckily my character understands it ... I really don't. [Laughs] I think you either "get it" or you don't. And man, I don't get it. I joke with them about it, and they're cool about it -- very aware. I tell them that this is the place where directors and producers come when they need to find alien languages. This is where you come to learn Vulcan.
Do you like playing the boss?
It's fun to be the boss! Though I have a whole new respect for Jimmy [Gandolfini], not that I needed any more respect for him. Wow, when you have to do all this work, it's certainly different than one line every other page. The burden is on you, and I really appreciate, more than ever, the guys who carry the shows. You're carrying three parallel plotlines: the criminal ones, the assimilating-into-the-culture one, and then you have the love story as well. It's a fun challenge, though.
Catch "Lilyhammer" exclusively on Netflix.
REAL LIFE. REAL NEWS. REAL VOICES.
Help us tell more of the stories that matter from voices that too often remain unheard.
BEFORE YOU GO