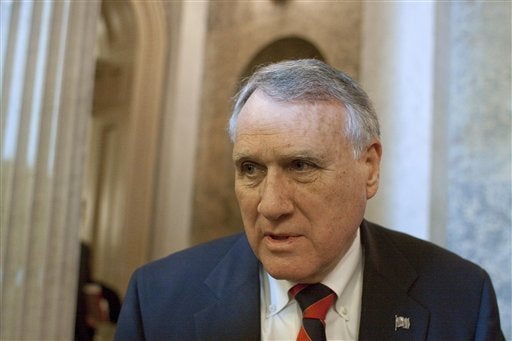 The second-ranking Republican in the Senate suggested on Sunday that the party would filibuster the next appointment to the U.S. Supreme Court, if that nominee were deemed to be outside of the judicial mainstream.
"It will all depend on what kind of a person it is," Sen. Jon Kyl (R-Ariz.) declared during an appearance on "Fox News Sunday." "I think the president should nominate a qualified person. I hope, however, he does not nominate an overly ideological person. That will be the test, and if he doesn't nominate someone who is overly ideological, you may see Republicans voting against, but I don't think you will see them engage in a filibuster."
Speculation about a upcoming Court opening was ignited Sunday morning after Justice John Paul Stevens gave a set of interviews in which he hinted heavily that his retirement was in the near future. Appearing alongside Kyl on the Fox News panel, Sen. Arlen Specter was asked about what the nomination and confirmation process would look like for the replacement Justice. And he seemed particularly un-enthused about the political circus that would ensue.
"I hope ... that Justice Stevens does not retire this year," Specter said. "I think the gridlock in the Senate might well produce a filibuster, which would tie up the Senate [with the] Supreme Court nominee. I think if a year passes there's a much better chance we could come to a consensus."
Specter went on to tout the need for a Justice who, like Stevens, had a skeptical view of executive power and a more diverse legal (or even political) background. Asked if he had a few names for nominees in mind, the Senator said he did and promised to share them with the president.
"I hope to see the president at the opening of the baseball season, and I intend to tell him my thoughts on that," he said. "But I will reserve it for the president instead of Fox News if you don't mind."
Given the partisan rancor that has brought the Senate to a standstill much of this past year, the notion that a Supreme Court nominee would be subjected to a filibuster attempt doesn't seem all that dubious. And yet, if successful, it would resemble something of a high-water-mark for the politicization of the Court confirmation process. Robert Bork's nomination, for instance, was not filibustered. It was defeated in the Senate by a vote of 58-42.
Asked whether Republicans would appear hypocritical should they block the next Obama Court nominee after having decried the treatment of Bork and Bush-nominees by Democrats in Congress, Kyl acknowledged that the filibuster was "wrong and it shouldn't be done."
Nevertheless, the Arizona Republican still wouldn't rule it out. "I think you would agree that if only one side is permitted to do it -- the Democrats and not the Republicans -- then you have a very unfair system," he said. "I would prefer to go back to the situation where it is not done by either party. But the Democrats won that fight. They filibustered Miguel Estrada."
Calling all HuffPost superfans!
Sign up for membership to become a founding member and help shape HuffPost's next chapter