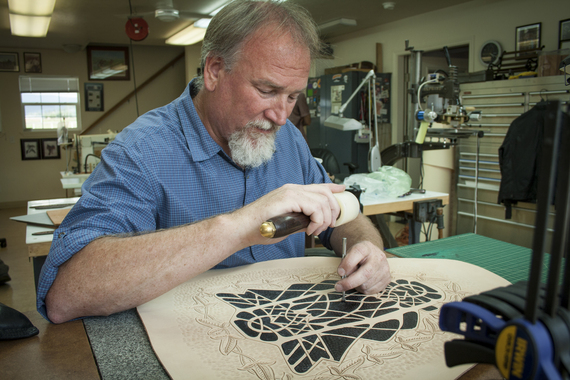 The role of leather in civilization is distinctly long-standing.
Humans have rummaged animal skins to satisfy their basic needs since they've inhabited earth -- harvesting hides for imperatives such as clothing and shelter. And they have used leather for more decorative or self-comforting pursuits, making carpets and jewelry.
To this day, we derive footwear, belts, apparel and other accessories from the smooth, supple material.
"Since man was making fires in caves," says leather artist Howard Knight, "he has had leather and furs to keep himself warm with. From the time he walked, he wrapped rawhide around sticks."
Knight, of Stevensville, Montana, is a contemporary extension of that lineage, a skilled artisan who comprehends that art is not just beauty or novelty, but that art is effectiveness. A discussion with Knight is a lesson in intricacy.
He explains that the smoothness and flexibility of a piece of leather is predicated off of the raised environment of the animal, and that Wisconsin cows produce a different grade of leather than do ones living in California.
He uses his words expansively, but he demonstrates matters even more eloquently. The craftsman in Knight satisfies and even enriches the function of leather. He understands its ebullient charm, its limitations, and all of its possibilities.
"It's a great medium to work with," says Knight. "It's extremely malleable and durable."
Artistic discipline is a challenge, and the test for Knight is staying focused enough to stick to the rigors of self-governance.
"I work from eight to five," says Knight. "I take a little bit of time for lunch. It takes a lot of discipline, but there are deadlines, and obligations that have to be made. It's harder more so in the summer than in the winter, because I love to fly-fish. Luckily there is always a great view of the Bitterroots."
Knight's custom belts, motorcycle seats and bags display his investment of time, thought and knowledge. He custom-designs approximately thirty belts in a year, and he recently completed a motorcycle seat for a new promotional Harley Davidson bike.
On the table of Knight's shop is a doctor's bag which he had free artistic reign to construct. "It was for a daughter who is ready to start medical school," says Knight. "It's a doctor's bag that can also be a fashion bag. It should last a long time, and is made of the finest materials. As she matures, the bag will mature with her."
The bag is a utensil of beauty and soft grace, assembled with hand-tooled American tanned cowhide, supple pebble-grained Napa cowhide and American alligator trim.
"The tooling leather here is all natural," says Knight. "It is used with oak tannins and different organic materials. Organic leather takes an impression much more smoothly. Organic leather is softer and lends itself to tooling."
A former electrician, Knight first became interested in leather work when he was an eight-year-old in 4-H. His career started after an accident left him unable to perform his previous duties.
"When I wasn't working as an electrician, I always had time off in the winter, and time to study. Some people I knew had great machinery."
In 2008, he "took a hit like everyone else," but business is rebounding. He has a publicist and new website which, he says, has generated enormous interest.
"As a business, I'm in my lucky number of thirteen years," says Knight.
Procedure rules the day in Knight's world.
On this mid-November afternoon, he experiments with a mix of tools to make varying indentations on the leather. Typically, he spends six to seven hours stamping -- using shaped implements to create imprints. His mallet pats make thin, leafy veins in the decoration of a motorcycle seat. Simple taps leave the lightest of impressions.
"It's really about time and experience," says Knight. "Leather has to be just right as far as the moisture content. With drier leather, you have to use a little more force, with wetter leather, you have to use a little less force."
For the next hour, he floats back and forth between projects: applying rich, deep oil-based dyes to one item; another project requires the talents of a flatbed sowing machine.
"When sowing, it's best to be aware of the stress points," says Knight. "I can sow for hours on end. I use the flatbed to sow belts, wallets, handbags, and everyday items. For briefcases, those with different types of seams, I use the cylinder arm machine to move the item around. That makes it easier to sow."
In order for an item to be cleared for shipping, it must surpass Knight's standards. He gladly admits to being his own toughest critic.
"I know if the project is right," says Knight. "If it's not right, and I'm not proud to put my name on it, it gets thrown and ripped up."
Signs of a good artisan's personal touch include not just around the loveliness of product, but the purposefulness of longevity. Knight's attitude reflects the artisan's innate desire for remembrance.
"Many things made today are made too quickly," says Knight. "My leather is made to last and last."
Related
Popular in the Community