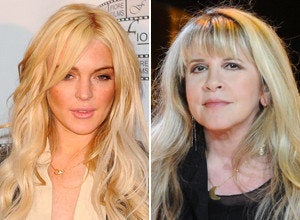 If Lindsay Lohan wants to play Stevie Nicks on film, she's going to have to follow in the singer's footsteps in real life, too.
Lohan, who has expressed interest in playing the Fleetwood Mac singer, got shut down in her quest, as Nicks told CNN that she needs to clean up her act before there was any chance of it happening.
"She's never going to," Nicks told the news network. "That's never going to happen unless she cleans up her life and becomes the great actress I feel she can be. Everybody thinks I hate her, and it's not that at all."
Nicks has gone to rehab twice, for cocaine and pill abuse. The star made similar comments in 2009, when it was first proposed to her that Lohan might buy the film rights to her life so that she could portray her on screen.
"Over my dead body. She needs to stop doing drugs and get a grip," she told the New York Times. "Then maybe we'll talk."
"I think that will be something I'll be able to say when I've taken the steps that I need to take to prove I can be insurable again," Lohan told "Extra." "I think that will come in time when I'll even be in the position to say that. Because I don't think I am right now."
Popular in the Community